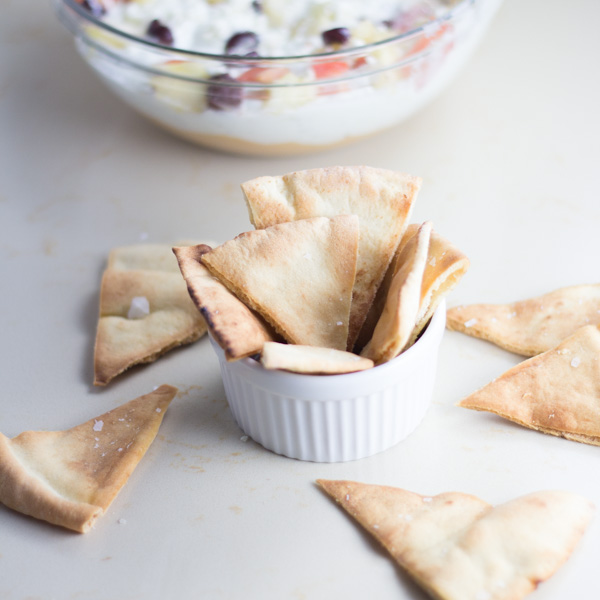 Homemade Pita chips are a healthy and delicious snack. See our pita chip recipe below. If you're looking to make pita from scratch as well, we've got you covered: Homemade pita bread (we've even got a video to show you just how easy it is!)
Is it just me or has 2017 raced by? I mean, there's roughly 50 something days left until 2018. We're heading into Thanksgiving and Christmas is right around the corner. I do have to confess, however, and I know it's a bit premature, but over the weekend we listened to some Christmas music. A bit early I know, but it's my favorite holiday and I honestly cannot wait to have a little Frank Sinatra and Bing Crosby coming out of my speakers. #dreamingofawhitechristmas
Overall it's been a fun year. We took a little hiatus after 3 years to decompress and do some traveling, which was a lot of fun. We spent 4 months in Europe going to places we'd never been before and some places a little off the traditional path: Romania, Italy, Poland, and Czech Republic (Czechia). No Greece this time around, but we wanted to get outside our usual travel plans and experience a bit more. We'll be returning to Greece next year, I'm sure of it :)
One of the cool things we got to experience first hand was just how much love there is for Greek and Mediterranean foods around the world. We found it in places like Krakow, Poland, and Brasov, Romania. Each had their own local flare added and it was very cool to see try the food fusion. At the end of the day, we all want to eat healthy, so it's no surprise to see Greek foods everywhere, but it was neat to see a traditional Greek salad on a Polish menu.
Anyhow, let's turn our attention to our new recipe, a simple and delicious one: Pita chips.
Homemade Pita Chips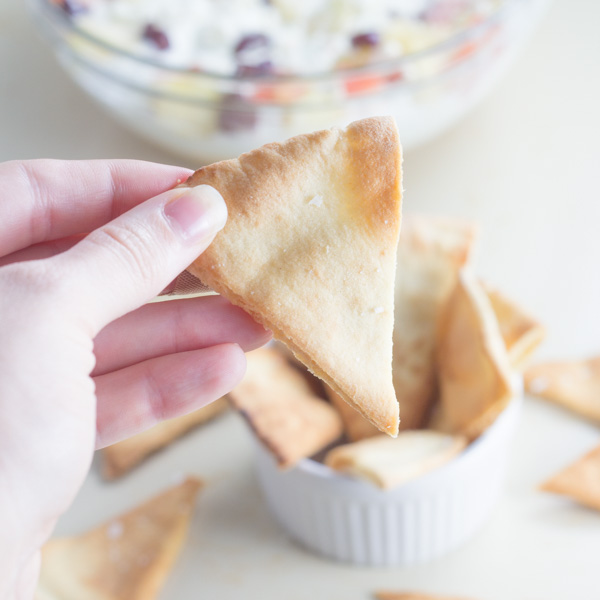 Okay, so you've made some Homemade pita bread and you want to make a snack to serve the family or some friends. You want something that goes good with tzatziki or hummus – enter homemade pita chips.
What we love about these, besides the fact that they are simple and delicious, is that they are super easy to make. Additionally, since fresh always beats out store bought, you are getting the benefit of something homemade without any extra preservatives (if you use our recipe to make the pita, you're getting nothing but pure healthy goodness).
These homemade pita chips are a hit every time we make them. They go fantastic with dips, spreads, or just plain with a little sea salt. You could even go crazy and make Greek-style nachos with them. Basically, these can hold their own with your favorite dips.
You can add more or less salt to fit your preference, and if you run out, you've only got to wait the 12 minutes for a fresh batch hot out of the oven, so what's not to love?
Enjoy these simple, easy, healthy homemade pita chips today!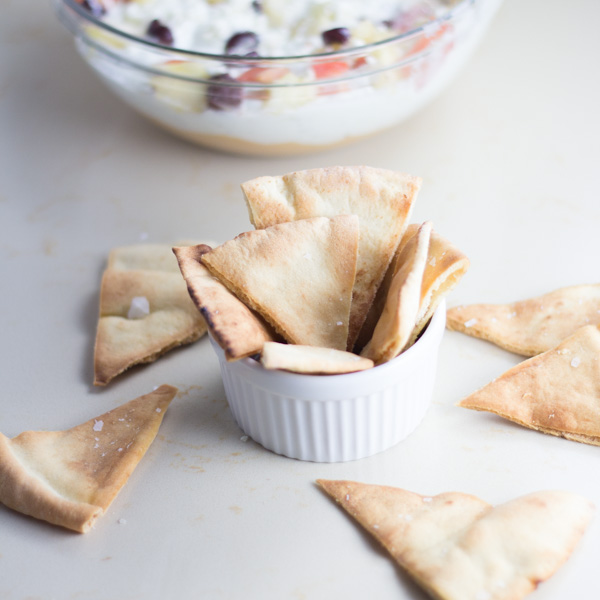 Homemade Pita Chips
Simple and delicious homemade pita chips
Ingredients
3 pitas - makes about 20 slices
Greek olive oil
Sea salt
Instructions
Preheat oven to 375F.
Brush both sides of pita with olive oil.
Cut pita into triangles.
Place on baking sheet lined with parchment paper.
Place pita chips in oven and bake for 10-12 minutes, or until golden brown.
Remove pita chips, top with sea salt, and enjoy!
Nutrition Information:
Yield:

3
Serving Size:

1 grams
Amount Per Serving:
Unsaturated Fat:

0g