Who doesn't love freshly made warm bread? Especially when it's a tasty Kalamata Olive Bread Recipe (καλαματα ελιά Ψωμί). I would argue that there isn't much else as delectable as this winning combination. Granted, I love bread tremendously; there's something about making it from scratch that I find amazing.
Kalamata Olive Bread Recipe: The Perfect Combination of Greek Flavors and History
If you're a fan of Greek cuisine, you've probably heard of Kalamata olives. These dark, rich olives are native to the region of Kalamata in Greece and are known for their intense flavor and meaty texture. But have you ever tried Kalamata olive bread? This delicious bread is the perfect combination of Greek flavors and history, and it's surprisingly easy to make at home.
To make Kalamata olive bread, you'll need a few simple ingredients. Start with all-purpose flour, instant yeast, salt, and water. Then, add in some chopped Kalamata olives, garlic, and fresh rosemary for an extra burst of flavor. Mix everything together, let the dough rise, and bake until golden brown. The result is a loaf of bread that's crispy on the outside and soft and chewy on the inside, with the unmistakable taste of Greece.
But what makes Kalamata olive bread so special? To understand the history behind this delicious bread, we need to take a closer look at the region of Greece where Kalamata olives are grown. Kalamata is located in the southern part of the Peloponnese peninsula, and it's known for its beautiful beaches, ancient ruins, and of course, its olives.
The olives grown in Kalamata are considered some of the best in the world, thanks to the region's ideal climate and soil conditions. The trees are carefully tended to by local farmers, who have been growing olives for generations. In fact, olives have been a staple of Greek cuisine for thousands of years, dating back to ancient times.
In Greek mythology, the olive tree was a sacred symbol of peace and prosperity. According to legend, the goddess Athena gave the people of Athens an olive tree as a gift, and it became a symbol of wisdom, victory, and abundance. Today, olives are still an important part of Greek culture and cuisine, and Kalamata olives are considered some of the best.
When you combine Kalamata olives with bread, you get a delicious and nutritious meal that's perfect for any time of day. You can serve Kalamata olive bread as a side dish with soup or salad, or you can use it as the base for a tasty sandwich. The possibilities are endless!
To make your Kalamata olive bread even more special, try using locally sourced ingredients whenever possible. Look for flour and olives from Kalamata, or try using fresh rosemary from your own garden. By using fresh, high-quality ingredients, you'll be able to taste the true flavors of Greece in every bite.
Here's a Kalamata olive bread recipe that is delicious and easy-to-make that's perfect for anyone who loves Greek cuisine. By combining the rich flavors of Kalamata olives with fresh herbs and bread, you'll get a dish that's both nutritious and flavorful. And if you're lucky enough to use locally sourced ingredients (or items imported from Greece), you'll be able to connect with the history and culture of Greece in a meaningful way. So why not try making Kalamata olive bread for your next meal? Your taste buds (and your guests) will thank you!
Kalamata Olive Bread Recipe: A Flavorful Greek-Inspired Bread
Making bread is something I really enjoy doing. Jane and I don't own a mixer or a bread machine. Not that you're unable to make great tasting bread with those things, it's just the connection I love.
The process of working with the dough, by hand, kneading it and manipulating it into whatever size and shape required.
I tried making bread in the past using a mixer, and I will admit it was nice to throw everything in and watch the ball of dough form. It saves time, that's for sure. Yet, I couldn't shake the feeling of losing something.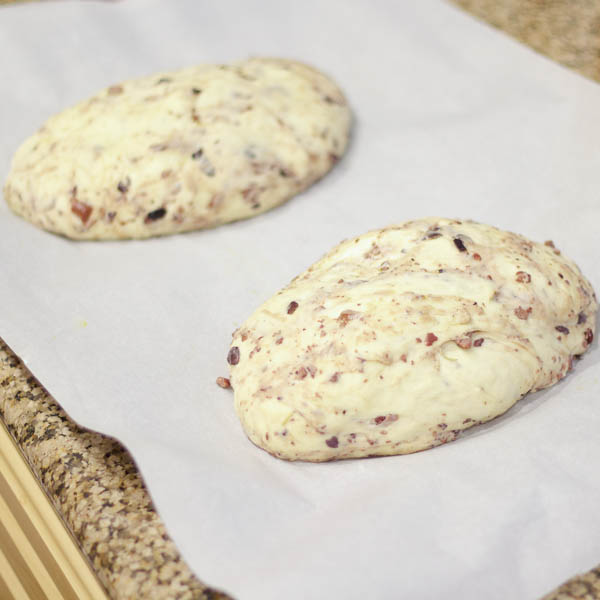 Making bread is an art, and I love it. I don't want to save time, I like the process.
I will acknowledge the fact that some swear by a mixer, and that's cool, too. As long as you're in the kitchen cooking wonderful dishes for yourself, family, and friends, I couldn't ask for anything more. In your kitchen you're the chef – so you make the rules!
As for this Kalamata Olive Bread Recipe, we find the distinct flavors of the Kalamata olives work nicely with the garlic, honey, and rosemary based dough. Don't worry too much about there being garlic in the dish, it's not overpowering and you hardly taste it.
It's great to eat by itself, or with a little jam or butter.
Honestly, whatever dish you're making, if you think bread would do well to accompany it, then this recipe will work.
So, give this Kalamata Olive Bread Recipe a go and let us know what you think!
Additionally, we've found it goes fantastic with things like Greek olive spread and tzatziki. Or just some olive oil with oregano.
Will you be using a mixer or doing it by hand?
Best,
Kenton

Kalamata Olive Bread
Prep Time:
2 hours
30 minutes
Total Time:
2 hours
55 minutes
This Kalamata olive bread is fantastic and goes so well with many other Greek dishes!
Ingredients
4 cups bread flour plus extra for covering kneading surface*
1 tablespoon yeast, 1/4oz or 7g
1/2 teaspoon garlic powder
1/2 teaspoon Sea salt
2 tablespoons Greek honey
3 tablespoons olive oil plus extra for coating
1 teaspoon rosemary
1 1/2 cup warm water
3/4 cup Kalamata olives, chopped
Instructions
If needed, add yeast to mixing bowl with 3 tablespoons warm water. Set aside for 10 min to activate yeast.
In a large bowl add: flour, yeast, garlic powder, Sea salt, honey, olive oil, rosemary, and water. Mix well.
Knead dough on lightly floured counter until dough in elastic, about 10min. Add more flour if too wet.
Coat bowl and dough with light layer of olive oil.
Place dough in bowl, and cover.
Let rise until double in size, about 2hrs.
Once dough has risen, place on floured surface and flatten out by hand.
Place chopped olives in center of dough.
Begin to knead olives into dough. Continue until olives are thoroughly mixed.**
Roll dough into ball, and separate evenly to produce 2 loaves.
Place each loaf on baking sheet lined with parchment paper.
Form into the size and shape of a bread loaf.
Allow to rise for another 30-45min***
Pre-heat oven to 400F
Once second rising is done, coat with olive oil.
Place in oven for 25-35mins or until golden brown.
Remove and set on wire rack to cool.
Cut Kalamata Olive Bread into slices and serve with some olive oil infused with oregano.
Notes
*Since water to four ratios can change slightly from time to time, start with 3 cups and slowly add in the rest until dough is formed.
* *when adding the olives, the dough may become a little wet due to liquid from olives, just add flour accordingly.
*** We've have great success only letting this bread rise once.
Nutrition Information:
Yield:

6
Serving Size:

1 grams
Amount Per Serving:
Unsaturated Fat:

0g