Welcome to Lemon and Olives' first edition of Mediterranean Monday's, shortened to #LOmedmondays (you can hashtag this on IG or FB to show us what you're cooking for Med Mondays! 😉 ). Our goal with these posts is to help guide you towards a healthy mediterranean lifestyle with Greek and Greek inspired dishes. We will be creating new recipes, much like what you are used to seeing on our site, as well as sharing tidbits about how you can implement med mondays into your life for good! Just keep in mind that not every Monday will feature a recipe because there is so much more about the med lifestyle that we want to share and explore with you by our sides. We will check in with our readers soon and often to make sure that you are enjoying the Lemon and Olives experience that we are starting as of today!
So enough talking, let's dive in!
We've made a Kale and Quinoa Summer Salad. It's basically called a summer salad, well, because it's summer. Okay pardon the creativity on that one but rest assured you will absolutely love how the ingredients in this dish come together and create an explosion of flavor in your mouth. Hello picnic salad, no ants allowed. Not to mention it's super easy, with only 3 steps!
So you may have seen the Mediterranean food pyramid in our earlier post, The Mediterranean Diet Isn't A Diet, It's A Lifestyle – and if you haven't, we recommend giving that a read, just go ahead and click that link!
Below, I have displayed the pyramid so that you can reference it as I go through how each ingredient in our dish will fall into the foods that you should be eating in order to experience healthy eating habits.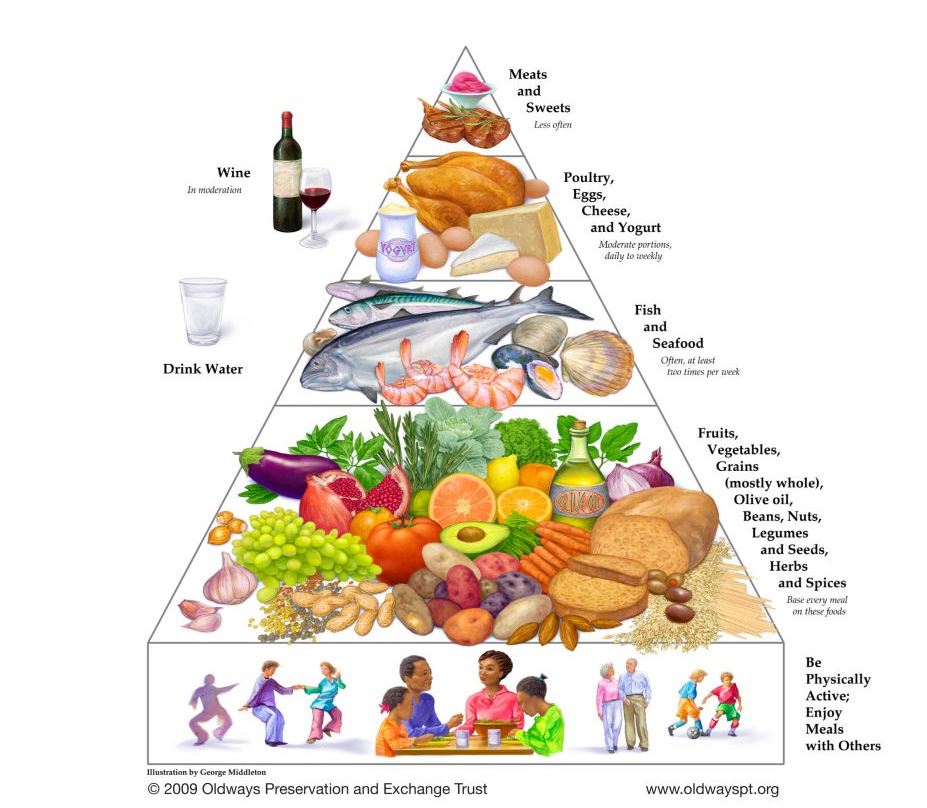 In our dish, you will see that the star of the show is the kale and for great reason, too. We've been kale fans for so long because it is so versatile and meaty if you will, and it makes for a lovely salad. It also has so many vitamins and nutrients like fiber, vitamin E, and magnesium just to name a few. You can guarantee that you are getting your micros with this dish, if you're into that sort of thing ;). Along with kale, we've also added quinoa, flax seeds, Kalamata Olives, and sundried tomatoes in order to keep the bulk of the meal in the Fruits and Grains section of the pyramid. As you can see from the image above, bread is also a popular item that can be served with many dishes (try our Kalamata Olive bread recipe) and could be a nice accompaniment to this Kale Summer Salad. Lastly, we've topped the salad with a small amount of feta cheese as this is towards the smaller part of the pyramid foods. Odd right? One might have thought Greeks would be eating spoonfuls of feta morning, noon, and night. But hey, traditionally, there are a lot more greens and seafood in their life than sweets and cheeses.
So while we have not hit all of the categories today in our one lunch salad, do not fret! There is A. the option that you can added tuna to the salad in order to meet the seafood portion of the diet, or B. make sure your other meals round out your day and nutrients. Have a piece of tuna for dinner with a side of avocado and perhaps our Tomato, Cucumber and Onion salad.
As for one of the most important parts of the mediterranean diet, do not forget your exercise for the day. It's so important to Move. Your. Body! Get up off of the couch, out of those PJs, and get outside to enjoy the fresh air.
Okay, maybe you're having a crappy weather day – it happens! You can always do what we did, clean! We actually were full fledged cat sitters for this entire last week. The owner, our friend Kate, came to pick up her sweet pea this morning. While we found ourselves actually becoming cat people, or just animal people seeing as how we've never had a pet before, we soon realized we were not cat hair people. So with that, when she walked out and that door locked, we looked at each other and said, "let's get to cleaning." We went on a full out clean fest which ended up turning into a summer cleaning. The whole house was dusted, vacuumed, lint brush-ed to death, laundry was done, dishes were cleaned, and we hadn't had a lick of breakfast yet! That is called fasted cardio folks, we learned that fancy term not too long ago.
We both own apple watches which are amazing at tracking your calorie burn, steps, heart rate, and so much more. Seriously look into getting one, they are kind of awesome! Jane won one at work so believe us, we know they aren't the cheapest thing to just run out and get.
In the past we had a polar watch which worked equally as well. The only caveat is that you had to wear a heart monitor strap around your chest. Extra effort if you know what I meaaannn.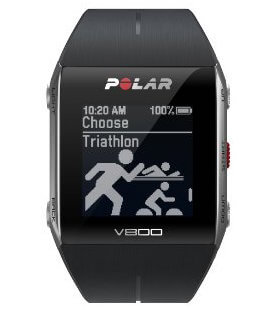 So to give you an idea, in the hour or hour and half of cleaning, I burned 160 calories! While cleaning! I wasn't even trying to lose weight or get my daily exercise in. Now keep in mind that I am a 5'3", 125 lb female with an exceptionally low heart rate (I have to work super hard to get my heart rate to 170 bpm for example). We all have our own stats but the point to take from this story is that you do not always have to get out and go to a gym or run outside to get your daily dose of exercise. It can be playing with your child/animal, doing laundry, or yard work to name a few. I wanted to make this point right off the bat because a lot of people might say, "but those people in the Mediterranean walk outside a lot and people in the US (or insert other country name) don't do that." Well, I have just given you your solution. Bam! The important thing to remember here is that you can be creative when trying to get in daily exercises. Some day you'll work harder than others, but the overall point to a lifestyle is that is becomes a part of your life, so just focus on moving every day!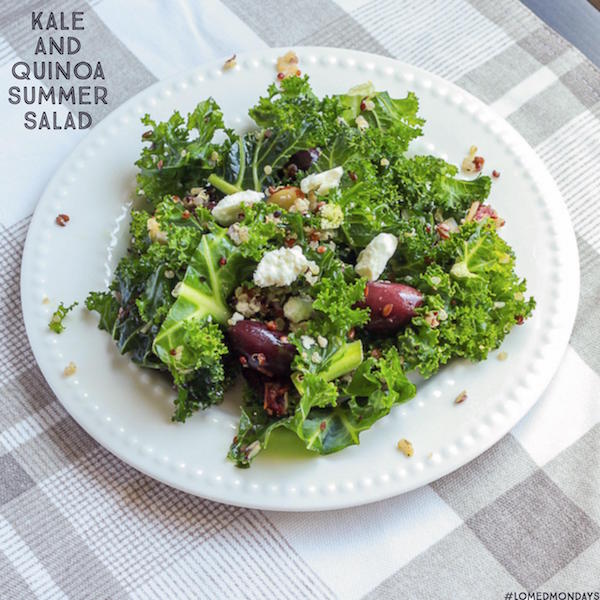 Alright, well this sums up our first #LOMedMonday post. Leave a comment below or email us at [email protected] to give us your feedback about the format of the post. We always love hearing from our readers.
-Kenton & Jane
PS. If you're a fan of quinoa, check out our other recipe: Greek Quinoa Salad.

Kale and Quinoa Summer Salad
A tasty and delicious healthy kale and quinoa salad
Ingredients
3 cups packed kale
4 sundried tomatoes
15 kalamata olives
2 tablespoons sliced almonds
1 tablespoon flaxseeds
2 heaping tablespoons cooked tricolor quinoa
2 tablespoons crumbled feta
1 tablespoon Greek olive oil
1 teaspoon pepper
Instructions
Add the kale to a mixing bowl.
Add in all remaining ingredients, mix well.
Plate and enjoy!
Notes
Feel free to add more or less of anything here to make it fit your preferred taste!
Nutrition Information:
Yield:

1
Serving Size:

1 grams
Amount Per Serving:
Unsaturated Fat:

0g