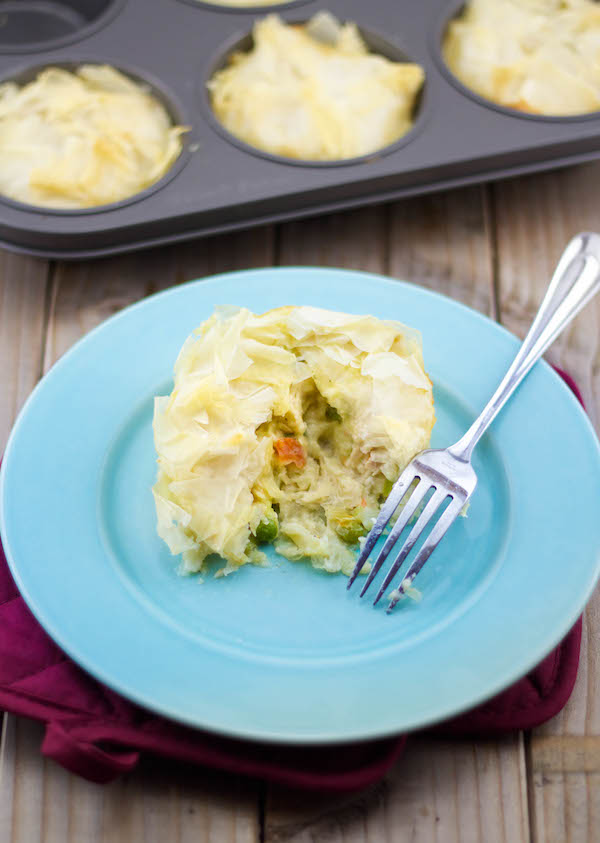 Warm. Flaky. Delicious filling. What does that describe? A chicken pot pie!
Jane and I are big fans of chicken pot pies – especially the filling.
The other day, we decided to make one with a Greek twist.
In this post, I'm going to walk you through how Jane and I created this recipe.
A while back we made Kotopita, which we felt had a similar filling to pot pies. However, for that recipe, you make it in a 10 inch oven dish. Unless we wanted one large pot pie, which may not be a bad idea for next time :), we were going to have to change the cooking method.
We looked around our kitchen for inspiration, and came across our muffin tin. We thought, what if we modified the filling and made them in each individual muffin mold—and for the flaky pastry crust, we use phyllo.
We went with a muffin tin vs a cupcake tin because we wanted them to hold more filling, be a bit bigger, and incorporate more phyllo for a flaky effect.
The result is this recipe – a delicious Greek inspired chicken pot pie.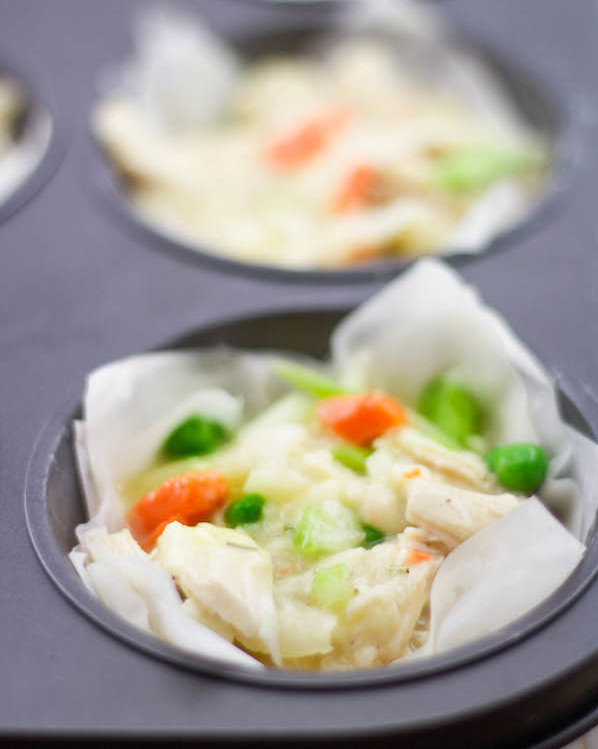 Next, we had to figure out what veggies we liked in pot pies and how to properly add them.
We settled on what we had on hand, and it turns out, it's more or less exactly what you'd expect: carrots, onions, celery, and peas.
We then remembered that when you're dealing with hard veggies like carrots and onions, you always have to make sure they'll be soft (unless you like them crunchy).
Therefore, we decided to sauté them in a pan for a few minutes before adding them to the mixture.
Using the recipe we had created for the Kotopita, we determined the right time to add the veggies and kept everything else the same. The end result was a delicious filling.
We lined each muffin mold with 6 phyllo sheets and added the mixture. We folded the tops over, or added an extra sheet depending on what we needed. And BOOM, our little Greek inspired chicken pot pies where ready for the oven!
These turned out to be such an amazing creation, we already plan on making them again.
It's also worth noting that phyllo has substantially less calories than the traditional crust use for chick pot pies, so that's always a good thing. And truth be told, we felt the phyllo did an amazing job recreating the delightful crust normally found.
So, give them a try and let us know what you think!
Best,
Kenton

Phyllo Chicken Pot Pies
Total Time:
1 hour
5 minutes
A Greek inspired chicken pot pie
Ingredients
1-2 chicken breasts, 1 1/2 cup shredded
1 carrot, 3/4 cup chopped
2 celery stalks, 1/3 cup chopped
1/2 onion, 1/3 cup chopped
1/4 cup frozen peas
⅛ cup 2 tablespoons butter; extra ¼ cup butter for melting
1¼ cups chicken broth, warmed
⅛ cup all purpose flour
1 egg, lightly beaten
⅛ cup grated kefalotyri cheese, can substitute with Parmesan
¼ cup feta
1 sprig of thyme, or a pinch if dried
6 sheets of phyllo, cut to size of each muffin mold
pinch of cinnamon
Salt and pepper to taste
2 tablespoons olive oil
Instructions
Boil the chicken breasts for 30 minutes or until cooked.
Once done, remove chicken from water and let cool. Shred chicken by hand and set aside for later.
Melt butter in pan over medium heat, then add flour. Stir constantly until smooth.
Add warmed chicken broth.
Continue to cook until mixture begins to boil. Turn off heat and let cool.
In separate pan, add olive oil, carrot, celery, onion, and peas. Cook for 5 min or until veggies are soft (or desired texture).
In pan with flour and broth, add egg, salt, pepper, thyme, cinnamon, cheese, chicken, vegetables and mix together.
Melt butter and grease each muffin mold.
Add one piece of phyllo, to each muffin mold.
Brush each phyllo piece with butter, and repeat. You should end up with each muffin mold containing 6 pieces of phyllo.
Add a scoop of chicken mixture to each muffin mold. Repeat until each mold has equal amount of chicken filling.
Fold phyllo tops over to enclose filling.
Add a small piece of phyllo to top if needed to seal.
Bake in the oven at 350F for about 30 mins or until golden brown.
Remove from oven, let sit for about 10 minutes
Serve!
Notes
*If filling gets too thick, you can add a little milk.
*For the serving, each pot pie counts as one. Our muffin tin had 6.
Nutrition Information:
Yield:

6
Serving Size:

1 grams
Amount Per Serving:
Unsaturated Fat:

0g