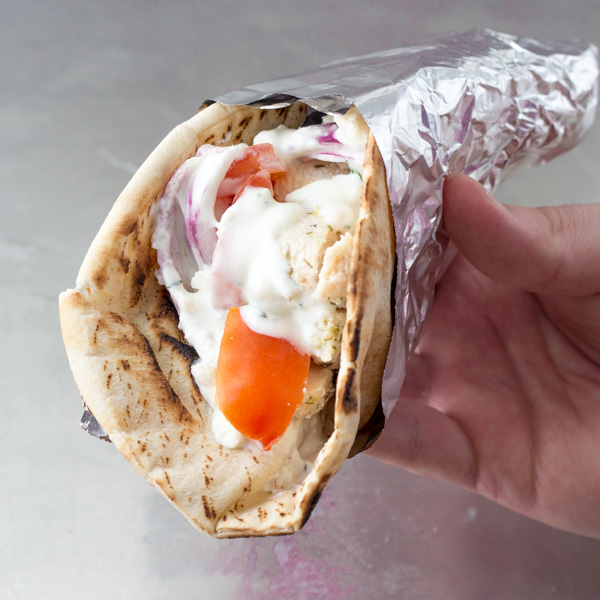 Greek Chicken Gyro, a healthy alternative to the classic Greek gyro you'd find at Greek festivals around the world. Yes, it's true. We love a delicious gyro (pronounced: yee-roh) served with fresh tzatziki and wrapped in a homemade pita – thank goodness we've got recipes for all those 🙂
Stepping aside for one moment, we wanted to talk about all the fun we've been having recently. If you follow us on Instagram (and you should!), you know we're currently in Romania. It's been fantastic, and we're sad to be leaving soon. It's beautiful and the people here are really friendly. Plus, there are castles everywhere in Transylvania, and while you're here you can hunt for Dracula! 😉 If you've never planned on visiting Romania, we'd wholeheartedly recommend it, specifically the Transylvania region. Places like Brasov (below) are simply amazing and the views are breathtaking.
Okay, let's talk about the food!
Greek Chicken Gyro
Whether you've been to Greece or not, you've probably heard of the infamous Greek gyro. However, what you may not know is that originally, they were made with either pork or chicken! Outside of Greece, they were made with a compressed mixture of beef and lamb on a spit that you've probably seen at Greek restaurants, festivals, and food carts.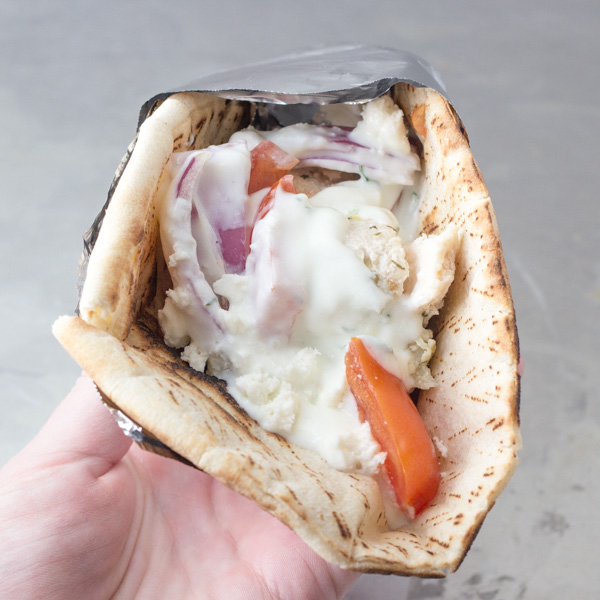 That's not to say that they aren't delicious, because they 1000% are and we get them from time to time, but they are a bit more unhealthy than a chicken gyro. Honestly, I could probably survive off of just chicken gyros. With all the fixins', you've got your fats, carbs, and proteins, plus I'm sure a vitamin or two.
I think one of the reasons I love them is that besides the fact that they're easy to throw together, it's the perfect excuse to make extra tzatziki and pita bread. I mean, who doesn't like having those things on hand?
How to Wrap The Perfect Greek Chicken Gyro
What You'll Need For The Perfect  Greek Chicken Gyro
First, you'll need some cooked chicken. You can use our marinade recipe below, your own, or even plain.
Secondly, you'll need some fresh tzatziki.
Thirdly, you'll need some fresh pita bread.
Lastly, fresh veggies of your choice (we suggest tomatoes and onions), plus some feta.
That's it, now you're ready to go!