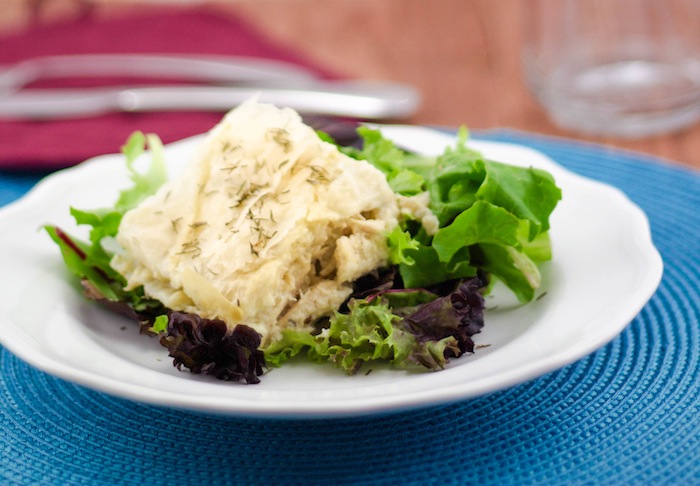 If you are in the mood for a warm chicken dinner, this creamy pie baked with cheese and herbs is just what you are looking for. I have come to believe that anything topped with phyllo dough is simply mouth watering and amazing. One piece of this buttery smelling pie is so hardy, the chicken so tasty and moist, that you will have to hold yourself back from eating more. In our case, we ate this after we had meat stuffed apples as a meze. It was a bit of a chilly night when we first made this, the windows closed and the scents of cheese and butter filled the air as this meal baked in the oven for about a half hour. We could hardly wait to see if it all turned out as amazing as we'd hoped it would. We weren't disappointed.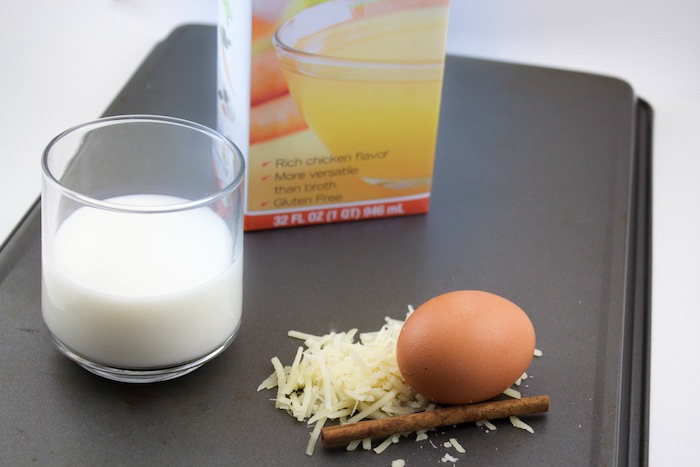 Don't be shy to add other ingredients to this to tailor it more to your liking. In Epirus, this dish is often made with a large amount of onions. If you would like to try your Kotopita like this, you can simply exchange the cheese for onions (or don't if it suits you). Chop half an onion and boil in water for 5 minutes or so. Drain and add to the chicken filling. Continue with recipe as normal. Which ever way you decide to enjoy this meal, you will be glad that you tried it. καλή όρεξη.
Kotopita
Total Time:
1 hour
10 minutes
A delicious creamy filling phyllo based pie.
Ingredients
2 chicken breasts, boneless; skinless
1/8 cup 2 tablespoons butter or margarine; extra 1/4 cup butter for melting
1 1/4 cups chicken broth, warmed
1/4 cup milk, optional
1/8 cup all purpose flour
1 egg, lightly beaten
1/8 cup grated kefalotyri cheese, can substitute with parmesan
1/4 cup feta
Pinch of dried thyme
Salt and pepper to taste
pinch of cinnamon
12 sheets phyllo dough
Instructions
Boil the chicken breasts for 30 minutes or until cooked through.
Once done, remove chicken from water and let cool. Shred chicken by hand and set aside for later.
Melt butter in pan over medium heat, then add flour. Stir constantly until smooth.
Add warmed chicken broth.
Continue to cook until mixture begins to boil. Turn off heat and let cool.
**You can add milk if the sauce is too thick**
Add egg, salt, pepper, thyme, cinnamon, cheese, and chicken to sauce and mix together.
Butter the bottom of a baking dish and line with 6 sheets of phyllo dough. Make sure to lightly brush butter on each sheet before you top with the next one.
Add chicken mixture and then top with the remaining phyllo dough.
Bake in the oven at 350 degrees F for about 30 mins or until golden brown.
Remove from oven, let sit for about 10 minutes, then enjoy.
Notes
To add more flavor, salt the water before boiling the chicken breasts.
Nutrition Information:
Yield:

6
Serving Size:

1 grams
Amount Per Serving:
Unsaturated Fat:

0g