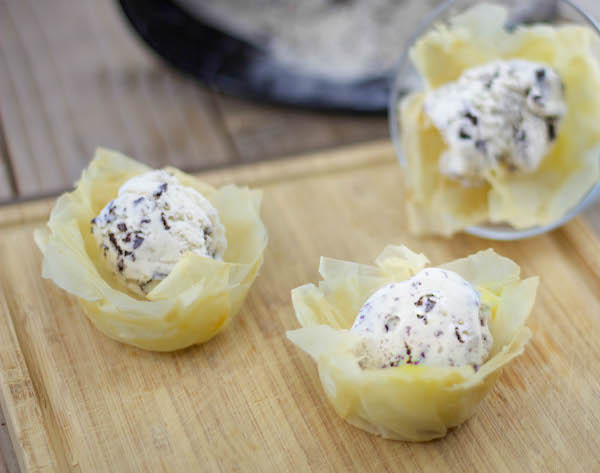 Chocolate chip ice cream. That is all. No wait, there's a whole idea that I had, a whole article about the best way to eat chocolate chip ice cream. Mmmmm, chocolat….darn it! So you are not mistaken by my trance, I have to tell you a little bit more. This has been my favorite ice cream since I was young, so much so, that I thought I hated most other kinds. Chocolate, pass. Strawberry, no way. And the dreaded mint chocolate chip, oh the blasphemy! No, I was set for life on what I deemed to be my very favorite dessert.
So, this story only leads up to me telling you that, things haven't changed much 🙂 What can I say, I'm happy in my bubble. Okay, the one thing I will admit to is that I have totally allowed other ice creams into my life…tonight I'm even having rocky road. What a scandal.
Now that I am exploring Greek ingredients and cooking, it came to me that I should make a dessert of my own creation that centered around my favorite ice cream. I was hosting a girls night not too long ago and I thought it would be the perfect opportunity to test out my theory, baked phyllo cup shells filled with ice cream. Perfect little cups that could hold none other than, chocolate chip ice cream. I was so excited I could hardly wait to get to the dessert part of the evening. Also, if it messed up, I knew i'd be okay seeing as how I was in the company of girls who would just laugh it off and still be happy that they were fed dinner. Although, take dessert away from a girl and it could get ugly. Phew, glad we had a positive result.
I then chose a box out of the stock pile, or what seems that way, of phyllo dough. I looked up phyllo cups online and was pleased to find that others had attempted this as well. I was happy to know I wasn't an odd ball with my venture and that other people were guiding me along the way to Greek inspired dessert bliss. After cutting the phyllo into large enough squares, I layered them in a (6) cup cupcake tin; about 6-7 sheets of phyllo per cup. I baked them until they were golden brown and then cooled them outside of their mold. They were so lovely it almost made me want to become a pastry chef. But then I remembered I have so much more to offer here on Lemon and Olives that it would almost be a shame to run to a life of bread and baking and desserts and unicorns! Back to business.
Back into the freezer I went to grab the most coveted of all, the piece de resistance, the chocolate chip ice cream. The girls had no idea what I had planned or what they were in store for. I served it up one by one and couldn't have been more thrilled with the results. I heard the light and flaky crunch as they ate up every bite. I think what was most inspiring about the whole situation was that I realized how many more meals I could plan with these little phyllo bouquets. These little bowls of heaven that can work with your sweet or your savories (more to come). So please, pick out your favorite ice cream and attempt to create a little piece of heaven on your plate that can take your childhood comfort dessert to a whole new level.
Kali Orexi.
Love,
Jane

Phyllo Cups with Ice Cream
Phyllo cups filled with ice cream
Ingredients
A roll of phyllo dough
Ice cream of your choice
Sugar, for sprinkling
1/2 cup melted butter
Cupcake tin
Instructions
Preheat oven to 375F degrees.
Butter each cup in your cupcake tin.
Lay out the phyllo dough and cut into 3x3 or 4x4 squares depending on which size tin you are using.
Make sure to cover the phyllo that you aren't using as it will dry out quickly.
Dip a baking brush in your melted butter and lightly coat each sheet before placing it in the cupcake tin.
Layer each one slightly more clockwise than the last.
After your last sheet is in the tin, sprinkle each with a pinch of sugar and place in oven for 8-10 minutes or until golden brown.
When done, take out of oven and let cool outside of mold by gently removing shell from tin.
Serve with a scoop of your favorite ice cream.
Nutrition Information:
Yield:

6
Serving Size:

1 grams
Amount Per Serving:
Unsaturated Fat:

0g