Did someone say Phyllo Wrapped Feta Cheese? There are sesame seeds involved too! Holy moly I'm in! We are about to explore the most popular thing to eat in Greece, well ONE of the most popular things!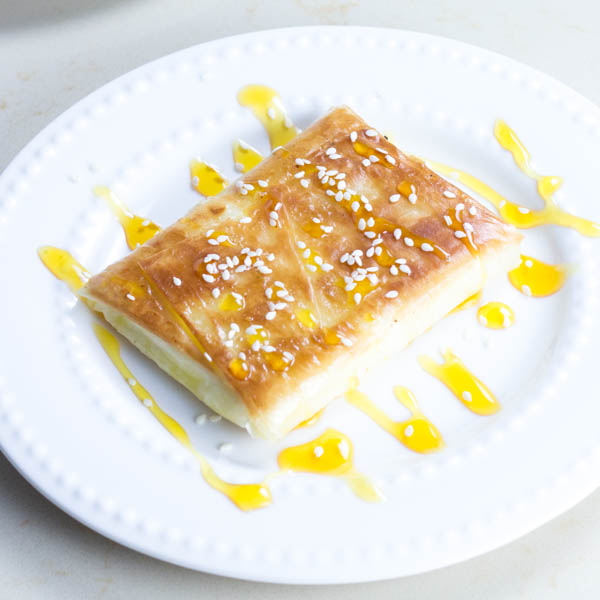 Phyllo wrapped feta cheese with honey and sesame seeds will surpass all of your wildest dreams. This saganaki dish takes fried feta cheese a step further by wrapping it in phyllo and then adding something sweet and crunchy on the outside so that you will never want anything else at the dinner table. Now, is it something you should eat three times a day? Probably not. I mean fried anything isn't good all of the time, but once in awhile it is a total must in my opinion. But it is something we get every time we are in Greece, at a Greek festival or when we want a delicious snack at home. I can picture the fried feta cheese with honey and sesame seeds being placed on a plate and put right in front of me. Kind of like someone is hand delivering me a piece of gold or something. It is positively magical.
Saganaki gets its name from the pan in which it is prepared – a frying pan with two handles called a Saganaki (obviously).
And while phyllo wrapped feta cheese with honey and sesame seeds in an extension of the famous saganaki, please do not confuse it with the following spectacle: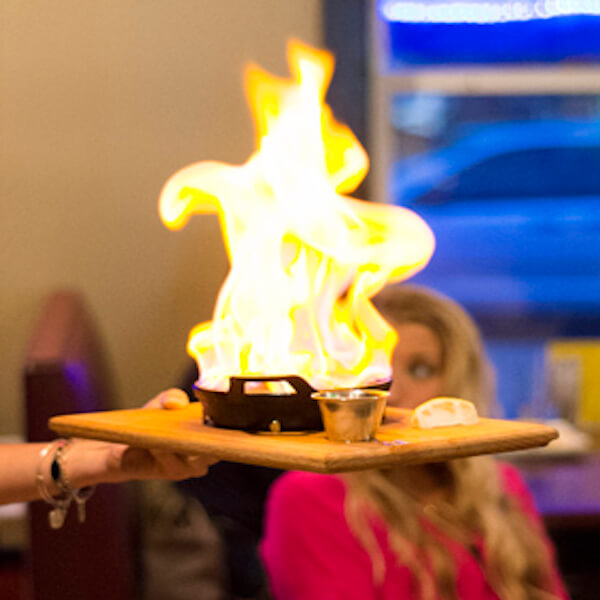 This person's hand may soon be on fire and I don't recommend you try that at home. She's probably a professional, however this trick is usually done for show and not traditional in Greece as a matter of fact.
Phyllo Wrapped Feta Cheese With Honey and Sesame Seeds
Our yummy recipe is different than the original saganaki that you typically think of in that it is wrapped in phyllo dough first and then fried in the pan. This allows you to get a delicious crispy shell on the outside of your cheese. Drool worthy, I know. However, you can't just stop there. Since sweet and salty always go well together, that's where topping it with Greek honey comes in. This is the point when you are staring down at the plate thinking, how quick can I get that entire square of feta into my belly. Is that just me? Guilty. But wait, how about a crunch added on top. Now I feel like the character Mr. Bean (Rowan Atkinson) in the movie Love Actually who is wrapping the gift for Williem Defoe's character and Mr. Bean keeps saying something to effect of, "we're not quite finished." It's because we aren't! There had to be more because apparently Greece wants to make their food the best ever! Finally, we top the fried feta cheese and honey with a plethora of sesame seeds. This provides a nutty, crunchy topping that will create that extra special something on your palate when you finally bite into this beautiful creation.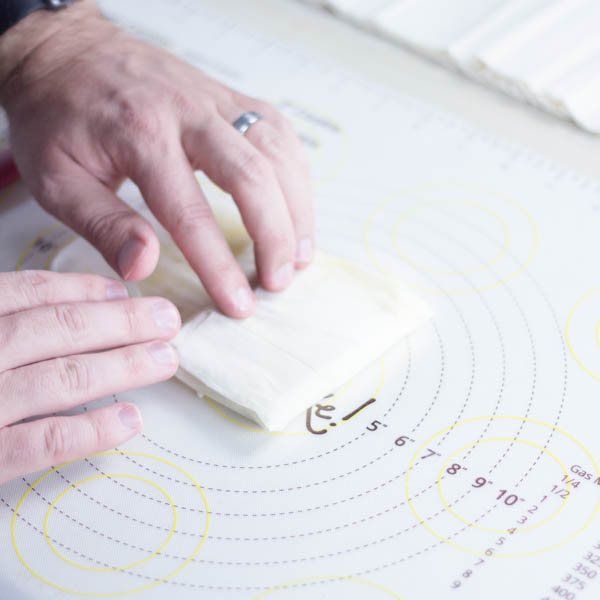 Seriously though, if I could gift wrap this phyllo wrapped feta cheese and have it ready in the "flashiest of flashes" for you, I would. If you want to see the Love Actually clip I seem to be unable to stop myself from referring to, watch this.
It is very common for a thought or a song to bring me to a particular scene in a particular movie. Half of the time Kenton has no idea what I am referring to and I have to trace through the steps in my mind that led me to thinking of that scene. Finally, he will say, "ohhhh, I get it now." It's a total thing that I do. I have fun with it.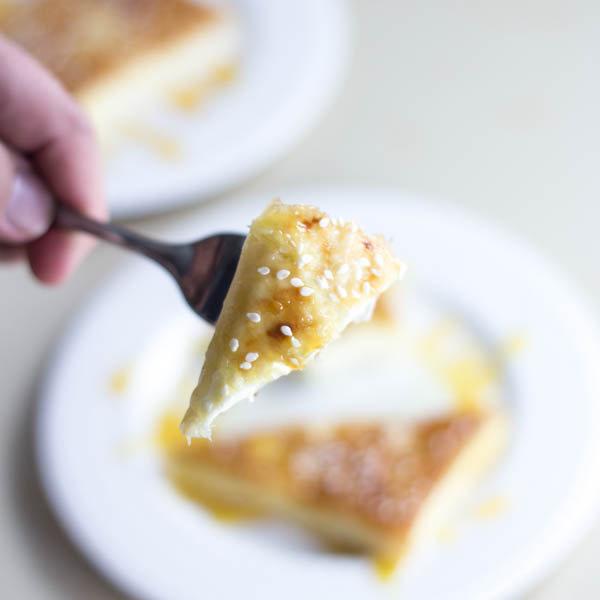 Okay, back to the point and onto my final message for you. I highly recommend that you give this phyllo wrapped feta cheese appetizer a try, like tonight! The flaky and salty goodness will be something to remember forever. Enjoy!
Phyllo Wrapped Feta Cheese with Honey and Sesame Seeds
Crispy and delightful phyllo wrapped feta with honey and sesame seeds. An easy and mouth watering recipe that everyone will love.
Ingredients
3 sheets phyllo dough
Greek olive oil
8 oz feta in block form, sliced lengthwise into threes
Greek honey
Sesame seeds*
Instructions
Lightly brush one sheet of phyllo with olive oil.
Place one piece of sliced feta at the bottom edge of the phyllo sheet.
Fold in each side, covering the feta slice.
Now, fold up starting with the feta side until you completely wrap the sliced feta with the phyllo sheet, Brush each side with a bit more olive oil and set aside.
Repeat with the 2 other phyllo slices and feta slices.
Heat a pan over medium-high heat.
Once pan is hot, add each phyllo wrapped feta slice to pan.
Fry for 3-5 minutes on each side, or until golden brown on both sides.
Place on paper towel to absorb excess oil and then place on serving plate.
Drizzle with honey and sprinkle with sesame seeds.
Enjoy your phyllo wrapped feta cheese with honey and sesame seeds appetizer!
Notes
*For added flavor, you can toast the sesame seeds or buy some already toasted.
To toast: add them to a pan over medium heat for 2 minutes, or until they get some color. Stir consistently to avoid burning.
Nutrition Information:
Yield:

3
Serving Size:

1 grams
Amount Per Serving:
Unsaturated Fat:

0g
Flaming Saganaki Photo Credit