Souvlaki (soo-vlah-kee)
This dish is the Greek experience and can be referred to as the Greek "fast food." Although, it's far from being as unhealthy or unsavory as American fast food tends to be. These juicy bits of meat loaded on a skewer provide for the ultimate meat lovers snack. In the US/abroad, souvlaki is usually wrapped inside a piping hot pita bread and topped with fresh vegetables, however in Greece, it's traditionally served on skewers (pictured) with a side of fries.
Souvlaki
Souvlaki is an amazingly delicious meal. We prefer it with pita, crisp onions, tomatoes, cucumbers, and a dollop of tzatziki sauce finish this dish off to perfection.
It's been said before when referring to Greek cooking, "the holy trinity" of flavors. These refer to lemon, garlic, and oregano combined to form a perfect confection of flavors in your mouth. Yum! The "holy trinity" of flavors should be used, without a doubt, when making Souvlaki. The marinade is really up to you however and truly creates the direction in which you want your meal to flow. For example, using a red wine marinade or one full of only spices and olive oil can make this more robust rather than zesty. You get where I'm going with this. Pair it with pits, fries, rice pilaf, or even eat it alone for a brilliant meal.
καλή όρεξη!
Kenton & Jane
PS. Don't forget to serve these with tzatziki and homemade pita bread!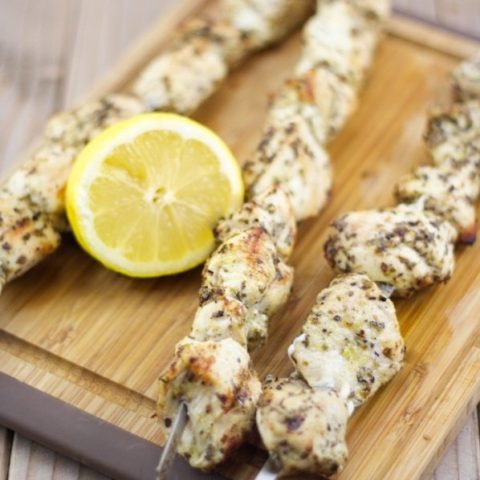 Souvlaki Recipe
Souvlaki is skewers of meat grilled. The choice of meat can vary so make it to your specifications.
Ingredients
3 lbs beef, pork, or chicken
3 tablespoons olive oil
2 lemons, juiced
2 tablespoons oregano
1 tablespoon thyme
1 clove garlic, grated (optional)
Zest from 1 lemon
Sea salt and pepper to taste
Instructions
Clean meat (remove extra fat) and cut into small cubes.
Putting the meat aside, in bowl combine all other ingredients and mix.
Taste mixture and when happy add in raw meat - coating well.
Cover and let marinate for 30mins in the refrigerator.
Fire up the BBQ.
Take skewers and add meat (start at bottom and work your way to the top of the skewer).
Place souvlaki on BBQ and cook for about 5-6mins on each side (this will vary depending on what meat you are using, so cook to preference (e.g. med, well, etc.,).
Once done, remove, and serve the souvlaki some fresh tzatziki!
Notes
Feel free to add more olive oil if you feel it's not coating all the meat. Also, have a favorite herb? Make it your own. Go Crazy!
Nutrition Information:
Yield:

2
Serving Size:

1 grams
Amount Per Serving:
Unsaturated Fat:

0g