This traditional Greek dish is not only authentic, but also mouth watering! Moussaka is normally made by layering strips of fresh eggplant over a delectable spiced meat (lamb) sauce. Once this process is done, you cover the beautiful creation with a creamy béchamel sauce that is then baked to perfection! It doesn't get any simpler than this!
Moussaka is a widely recognized Greek dish that originated in Greece and gets a lot of its notoriety from movies, television, and online Greek recipe sites. However, this dish can be found in other countries as well, including Egypt and those in the Middle East. It all depends on the spices used and the variations made. Keep in mind that whether you're using oregano or thyme, lamb or beef, potatoes or eggplant, they all work together to form a Moussaka that is sure to be a family dinner delight!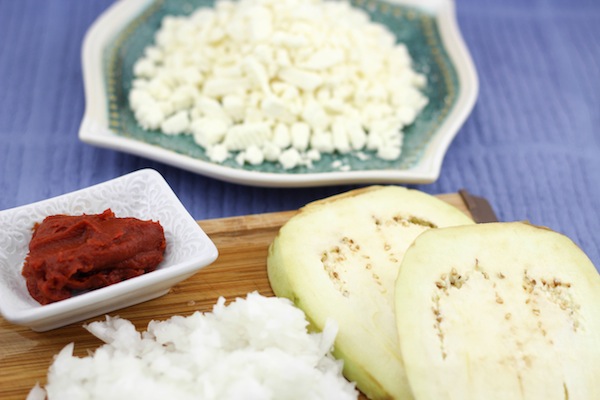 Let's not forget to mention my favorite part of this dish (which can be found in a few other Greek dishes as well), the béchamel sauce. Oh my, words cannot describe how this turns any dish up about 10 notches with its creamy texture and almost sweet taste. Simply, béchamel can be made by using milk, butter, and semolina (flour). Once it becomes thick, it is poured over the Moussaka and then can be topped with cinnamon and feta. Normally, people do not equate cinnamon flavor with a savory dish, but somehow, it works perfectly. This is also the case for Pastitsio.
Due to the many variations of this dish, not only by using different spices and meats, but also with its ability to be just as tasty as a vegetarian dish, this authentic Greek recipe is sure to be a crowd pleaser.
Kali Orexi!

Moussaka Recipe
Total Time:
1 hour
10 minutes
Moussaka is a yummy eggplant dish that's kind of built like lasagna. It's a bit time consuming, and might take longer if it's your first doing it, but it's worth it!
Ingredients
1 medium eggplants, peeled and cut lengthwise into 1/2 inch thick slices
1 lb ground beef
1/2 onion, chopped
1 1/2 tsp tomato paste
1/2 cup red wine
1/2 cup feta
1/4 cup bread crumbs
1 -1 1/2 glove crushed garlic, to preference
Olive Oil
Salt and Pepper
Cinnamon
-Bechamel Sauce-
2 cups milk
2 tbsp butter
1/2 cup semolina
Instructions
Take sliced eggplant and place them in a bow with water and salt to soak for 15min.
Pre-heat oven to 350ºF
Take eggplant slices and place them on baking tray. Drizzle oilve oil and sprinkle with salt and pepper. Place in oven for 10-12min, or until tender. Remove and set aside.
In large skillet, add olive oil and chopped onions and cook for 5min, or until tender.
Add beef and brown.
Once brown, add: wine, tomato paste, salt, pepper, cinnamon, and garlic.
Simmer and reduce all liquid.
Once reduced, add bread crumbs and feta cheese. Remove from heat.
Sprinkle bottom of oiled baking dish with bread crumbs.
Line bottom of dish with 1/2 of eggplant, cut to make even and make sure entire bottom is covered.
Add mead mixture on top and spread evenly.
Add remaining eggplant slices to cover top.
-Bechamel Sauce:
Heat milk in pan.
Add butter and melt.
once, hot - slowly stir in semolina.
Stir continually over low-med heat until thick.
Once thick, remove from heat and pour over eggplant/meat mixture.
Spread bechamel evenly over top
Sprinkle with cinnamon and feta
Bake for 30min at 350ºF, until golden brown
Notes
Moussaka is an interesting dish. It can be made many different ways. Some people substitute eggplant for potatoes or zucchini. The specific blend of herbs are even debated and or changed. If anything, use this as a base and experiment. You'll get it different ways depending on where you have it in Greece. So make it your own!
Nutrition Information:
Yield:

4
Serving Size:

1 grams
Amount Per Serving:
Unsaturated Fat:

0g