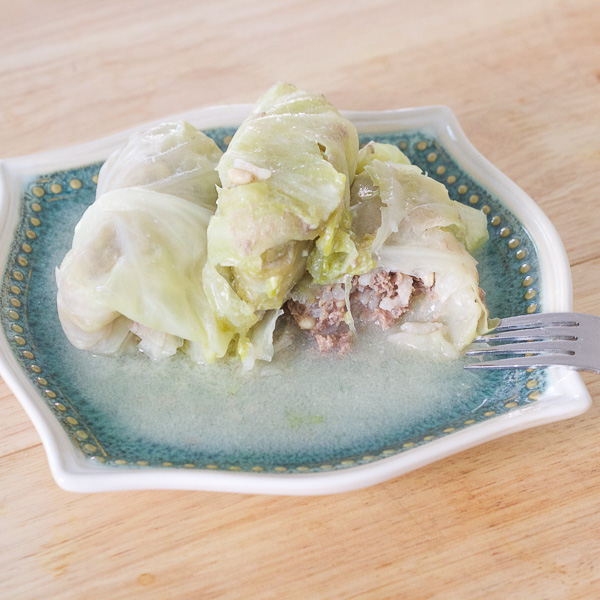 Well, this is our first autopost. Currently, Jane and I are soaring overhead at roughly 40,000 feet. We're making our way across the Atlantic, Europe bound. We'll soon be down in the land of writers, poets, Guinness, and Jameson.
It seems like a long time coming. Naturally, I'm writing this post in advance, but the feeling is like I'm already in the air.
We've been waiting for this trip for quite some time, having bought our tickets back in April. So for about 6 months, we've talked about what we're going to do 100s of times, changed places, changed hotels, changed countries visited, etc., Everything. Now it's set and by the time this goes live, we're on our way.
To commemorate this event, we wanted to share with you a recipe that is very special. It's a very well known Greek dish, and both Jane and I were shocked that it wasn't already up on here.
It's: Stuffed cabbage with avgolemono, or how I know it, Lahanodolmades me avgo (λαχανοντολμαδες με αυγολεμονο).
Like dolmathes, this is a labor of love type dish. It's not recommended when you're in a hurry, but rather when you have the time needed to create this special dish. If you've never had this before, we think you're in for a treat.
Rolling Greek Stuffed Cabbage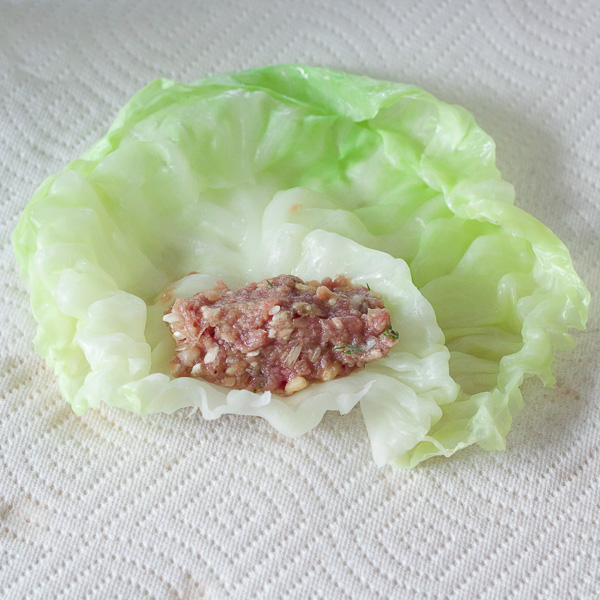 The basics of this dish are very similar to rolling meat in grape leaves, except we're using cabbage here. Like the picture above you take about a spoon sized amount of the meat filling and put it at the base. You then fold the left side in, followed by the right. Next, you just roll up tightly, and that's it! One down.
It really isn't too bad once you get started. You will notice yourself getting in a rhythm and your mind will wander. I actually like this. It's a time where I often think of nothing (for a change) and the repetition is almost therapeutic.
You could also bring the whole family in on it. I do this a lot,too. It speeds up the process, gets people involved, and is a great way to spend some quality time talking with family and or friends.
There's just something about the way the meat absorbs so much flavor, along with the rice as well. The added crunch of pine nuts is our little secret.
Overall, both Jane and I really hope you like this dish. It's one of our favorites and we're still both in shock that it didn't make it on here sooner.
Kali Orexi,
Kenton & Jane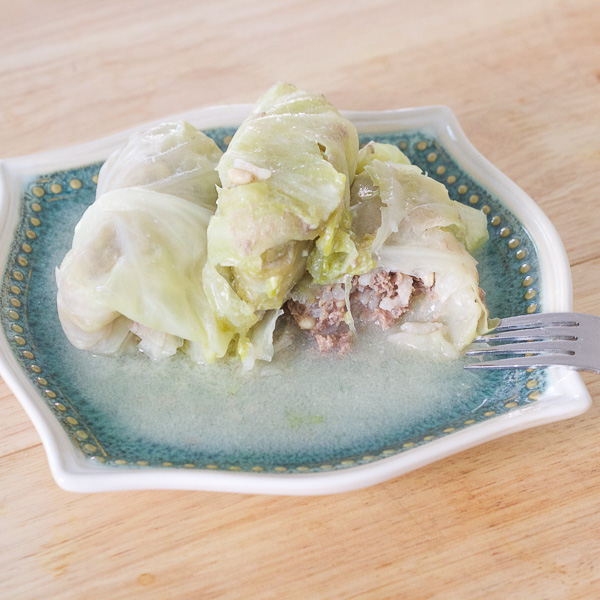 Greek Stuffed Cabbage With Avgolemono
Total Time:
1 hour
15 minutes
Famous greek stuffed cabbage
Ingredients
2 heads of cabbage
-filling-
1 lb ground beef
1 onion, chopped
1 garlic clove, pressed
1/4 cup pine nuts
1/2 tablespoon dill
1/2 cup white rice
1 egg
1 cup of chicken broth
Salt
Pepper
-Liquid-
10 cups of chicken broth
-Avgolemono-
3 eggs
2 lemons, juiced
Instructions
Fill a soup pot 2/3 of the way full with water, add some salt, and bring to boil.
Core both heads of cabbage using a sharp knife (be careful).
Add cabbage heads to pot (use more than one pot if needed).
Stick a fork in the hole created by coring, this helps keep them down and is easy to pull out.
After about 5 minutes, begin shaking the fork (with a glove) to start having the outside cabbage layers come off.
As the cabbage leaves fall off, remove them and add them to a strainer. Continue doing this until all leaves are removed.
Once finished, empty water from pot, and set aside.
Run some cold water under the leaves to cool down and stop cooking.
Combine ingredients listed under the filling section in a bowl and mix well.
Take a spoon size amount of the meat mixture and place it at the base of a cabbage leaf. Fold in sides, and roll up. Place in soup pot.
Repeat until all meat or cabbage is used.
Fill pot with remaining 10 cups of chicken broth.
Bring to a boil, cover and reduce heat to simmer.
Simmer for 45 minutes.
-Avgolemono-
With 5 minutes left, crack 3 eggs into a bowl.
Beat until froth, by hand about 10 minutes.
Add lemon juice.
While stirring, slowly temper the eggs by adding 1 cups worth of hot broth to the bowl. Mix, and empty everything back into the soup pot with the cabbage.
Cook for another minute or so.
Remove from heat and serve!
Nutrition Information:
Yield:

4
Serving Size:

1 grams
Amount Per Serving:
Unsaturated Fat:

0g