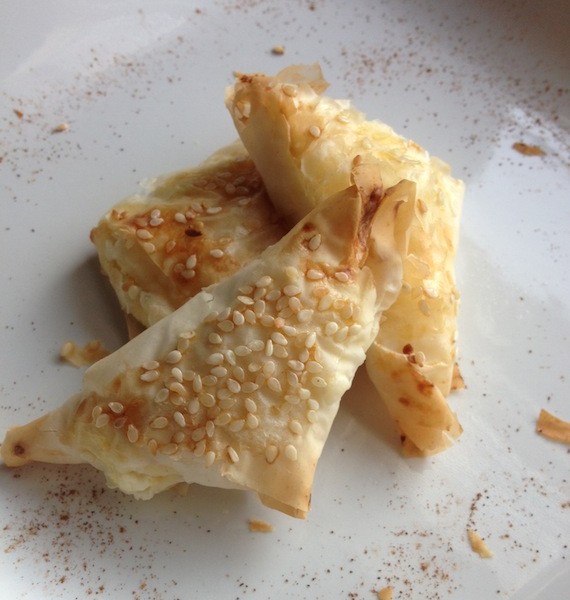 I'm pretty sure I could eat these every day. The saltiness of the Greek cheeses pairs so nicely with phyllo dough. In Greece they're popular for a late breakfast, but with me I'll eat them whenever.
Like with any recipe involving phyllo, it can be a little time consuming to make, but fun at the same time.
Tiropitakia | Greek Feta Triangles
It's actually these types of recipes I'll gravitate more towards making when I've had a stressful day. There is a level of calmness you can achieve with the repetition and focus (or maybe that's just me).
Jane and I sometimes make these together to speed the prep time up, but either way, you'll be satisfied with the work put in once you're eating these!
In case Greek is new to you, you'll quickly find Greeks love their phyllo based pies, like Spanakopita. This has the same traditional triangle shape and is just as delightful. You can think of these as spanakopitas without the spinach.
So give these Greek feta triangles a try and let us know what you think!! We've added some pictures below (within the recipe box) to give you a good idea of how exactly some of the steps are done.
Keep in mind, the recipe below makes about 40 triangles so adjust for needs. We hope you enjoy this Tiropitakia (τυρóπιταkια) recipe!
καλή όρεξη! (Kali orexi – enjoy your meal!)

Tiropitakia | Greek Cheese Phyllo Triangles
Total Time:
1 hour
15 minutes
A lovely delicious phyllo triangle filled with cheese.
Ingredients
2 eggs, lightly beaten
1 egg yoke
4 tablespoons evaporated milk
3 cups of Greek cheese, 1 cup of: Feta, Kasseri, and Kefalotyri*
1/2-1 teaspoon garlic powder, optional and to preference
Pepper to preference, no Sea salt as cheese is already Sea salty
1/2 cup butter, melted
Olive oil
1 lb of ready made phyllo dough, thawed
Sesame seeds
-Egg wash cover-
1 egg yoke beaten
1 teaspoon of water
Instructions
In a bowl, combine: eggs, egg yoke, milk, cheese, garlic powder, pepper, and mix well. Should be thick. If too runny, add more cheese.
Combine melted butter and olive oil in bowl (we'll use this to brush each phyllo strip).
Take out the phyllo dough roll--don't unroll it!
Now, cut the phyllo dough into thirds.
Take one-third and unroll it, this will be what you work with.
Cover phyllo that you're not using with a damp paper towel to keep moist.
Take olive oil/butter mixture and lightly brush the first strip.
Take 1 spoonful of cheese mixture and place it on right corner (right or left, whichever is easier for you to roll).
Now, fold the cheese over on the phyllo dough making a triangle. Continue rolling it over and over until you've reached the end.
Place on baking sheet (preferably lined with parchment paper).
Repeat until all cheese/phyllo is used or desired amount.
Preheat oven to 400F.
Once all tiropitakia's are on the baking sheet, take your egg wash mixture and brush the top of each cheese pie.
Sprinkle sesame seeds and place in oven.
Bake for 30 min or until tiropitakia's are golden brown.
Serve warm.
Nutrition Information:
Yield:

10
Serving Size:

1 grams
Amount Per Serving:
Unsaturated Fat:

0g