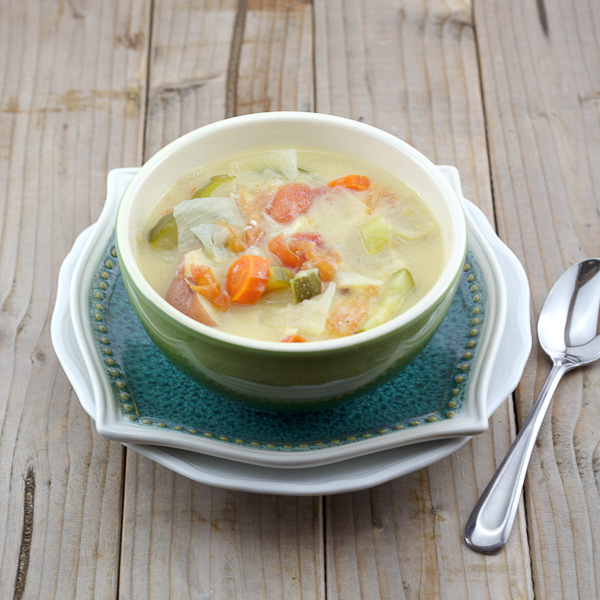 The traditional avgolemono with chicken is our usual go to when it comes to having a quick and easy soup that is comforting while at the same time delicious. Recently we got a mixer in our house (gift from the parents) so we were curious to see how our avgo sauce would turn out while using this super motor that could mix it all up for you. Now, an important part of making the sauce is building up a froth while you beat the eggs. When doing this by hand, that means that you have to mix for a long time at a fairly decent pace. Sheesh, my arms are aching already. Okay so I'm not saying we'll never do it the old fashion way, but once you go mixer…well, you know the saying. This beautiful, cherry red mixing machine takes the eggs and turns them into a frothy cloud that is exactly what you picture when you think avgolemono. WOW.
With this new found technique we decided to make our homey soup but instead of chicken, we chose to load the pot with a ton of veggies! Using veggies is so easy and it honestly provides so much flavor depending on the ones that you pick out. The tomatoes give it acidity (especially because I like to pick ones that are less than fully ripe), the onion gives it a nice bite, and the celery adds a beautiful peppery flavor that is unmistakable. Top it all of with the frothy avgo and it's just fabbuulloouuss. Today I had it for lunch and I paired it with a pita that was topped with zattar mix, an herb mixture that is almost sweet and sour (we will make this for the site too so that you can try it).
I am such a soup fan…it's a little lame at times. It's one of those meals I can have whenever, all of time. Poor Kenton. If I am in a lazy mood he knows what my suggestion for dinner will be, soup or tacos. I can't help it! At least with this recipe though, I know I can switch it up and still get something scrumptious. Not to mention, it stores nicely so you can have it night after night

Lucky me! Try it out and enjoy.
P.S. You can add any vegetables that you want…I sometimes even add bok choy. Have fun and Kali Orexi!
Love,
Jane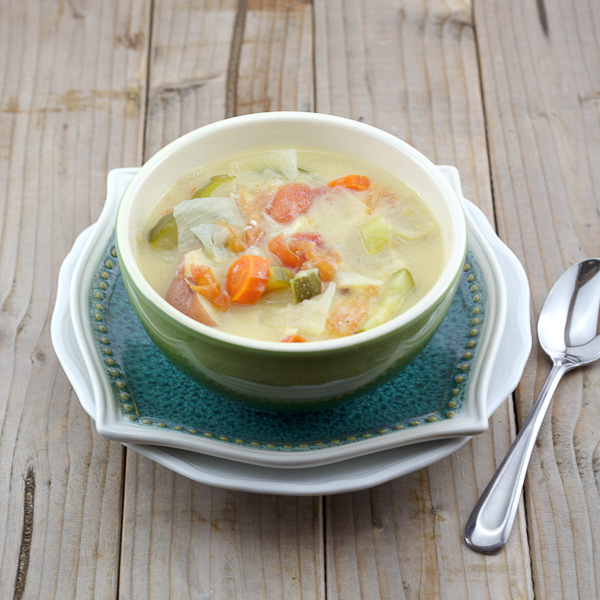 Avgolemono With Vegetables
A delicious and healthy egg-lemon veggie soup
Ingredients
10 cups chicken broth
1 zucchini, chopped
1 carrot, chopped
2 to matoes on the vine, chopped
3 garlic cloves, minced
1/2 onion, cut into large chunks
1 lb baby red potatoes, cut into fours
2 tablespoons olive oil
1 sprig thyme
2 bay leaves
1 stalk celery, chopped
Salt and pepper to taste
-For Avgo-
3 eggs
2 lemons, juiced (more if desired)
1 teaspoon flour, optional
Instructions
Over medium heat, combine onions, garlic, and olive oil in deep pot. Cook for 5min or until onions become translucent.
Add chicken broth and bring to a boil
Add ALL remaining ingredients to soup base.
Cover and simmer for 25-30min or until veggies are tender.
--Make Avgolemono--
Add eggs to bowl and beat for 4 to 5 minutes. If using flour, add during this step.
Stop beating and add lemon juice
Take 2 ladles of hot broth from soup and slowly pour into egg froth, mixing. This is important. Don't forget this or the eggs will curdle.
Add back into soup dish and stir!
Turn off heat and serve!
Nutrition Information:
Yield:

6
Serving Size:

1 grams
Amount Per Serving:
Unsaturated Fat:

0g