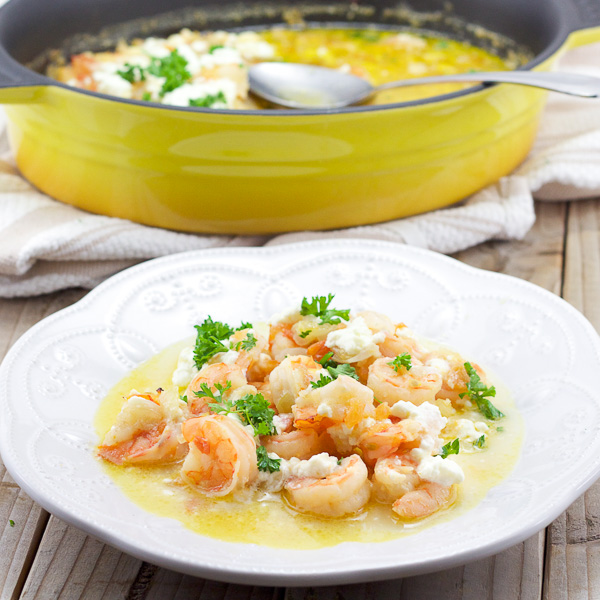 As I sit here typing up this post, I can't stop thinking about this little dish we created. Both Jane and I eat a lot of shrimp. Not all of them make it on this site, but nonetheless – we're shrimp fans. The fishmonger at our local store doesn't even ask us what we're in for, it's at the very least for these wonderful treats.
2014 is the year I'm pushing myself to grow in the kitchen. In all ways, but specifically herbs and spices and creating blends of different things that turn out delicious (doesn't always happen lol). To help me I bought this fantastic book: Herbs & Spices: The Cook's Reference. For this specific dish, we were thinking marinades. I wanted to create something that would bring this Shrimp Saganaki appetizer (meze) to new heights. Since I'm still relatively an amateur, I stuck to the basics. I've got some other more advanced recipes in the works, but that's for another day.
One thing I've learned is cooking with alcohol can be fun. Reds for meats and whites for fish. Whether you're reducing or marinating, it just adds a fantastic flavor to the mix.
We had a bottle of white wine that had been sitting in our fridge, so I thought to use it as my base. I then added in a few other ingredients I thought would balance well with not only the other indigents, but the shrimp itself and the chosen herb garnish.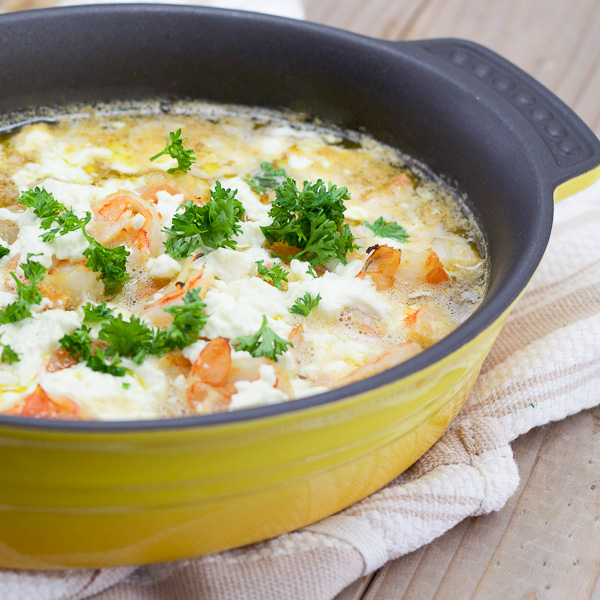 My overall thought as we begin experimenting in 2014 is that Greek cooking, as well as Mediterranean cooking, is like the occam's razors of food creation. It's simple honest ingredients. It's not over the top crazy complex meals, but dishes made with simplicity in mind. What continues to blow my mind, and others we've cooked for, is how delicious the food actually is. It's the old adage, "quality over quantity."
This is a great tasting shrimp dish that can be made relatively easy. Now what we did, since this is technically an appetizer, is we placed this on top of pasta and turned it into a filling dinner option. Something you may want to try. We both loved it!
So go ahead and give this Greek Shrimp Saganaki recipe a try and lets us know what you think.
Until next time my friends,
Kenton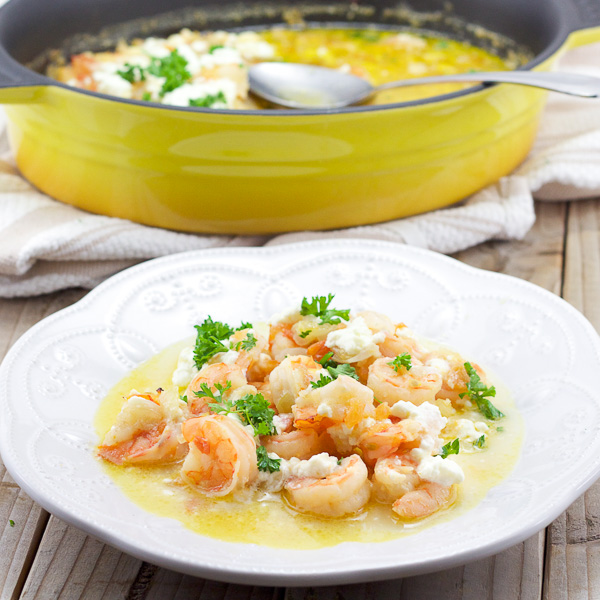 Shrimp Saganaki
Simple and delicious shrimp and feta appetizer.
Ingredients
1 pound shrimp, shells and veins removed
1/2 cup crumbled feta, the more the better!
1/2 cup white wine*
1/2 cup olive oil
2 garlic cloves, pressed
Zest of 1 lemon, 1/2 if large
1/2 cup chopped onion
1 to mato, diced
1/4 cup fresh parsley
Sea salt
Instructions
Place shrimp in bowl to marinate.
Add wine, olive oil, lemon zest, garlic, sea salt to preference - mix well.
Place in fridge for at least 30min.
Add some oil to pan and heat over medium heat.
Add onions and cook for about 5min or until translucent.
Add tomato, shrimp, and all liquid from marinade.
Cook for an additional 2-3 min, stirring.
Transfer all ingredients to oven safe dish
Place in preheated oven at 400F for 10min
Remove, sprinkle with feta and place back in oven for another 2 min.
Remove and plate, topping with parsley.
Serve!
Notes
*If you want more sauce, replace the 1/2 cup with 3/4 cup wine.
Nutrition Information:
Yield:

2
Serving Size:

1 grams
Amount Per Serving:
Unsaturated Fat:

0g