Black-eyed Peas With Spinach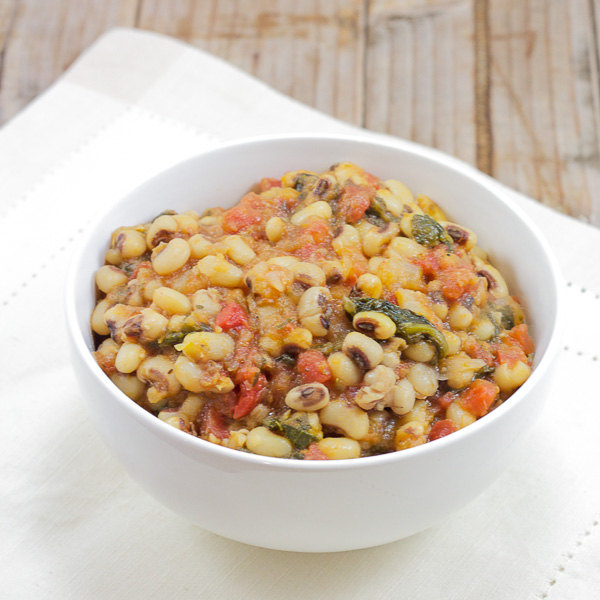 1 cup black-eyed peas
½ cup olive oil
1 medium onion, diced
2-3 cups spinach (we cut them off the stems, washed, and added - did not dice)
2-3 garlic cloves, pressed
14.8 ounce can of diced tomatoes
1 teaspoon tomato paste
1 tablespoon oregano
2 sprigs of thyme
salt
pepper
Pour black-eyed peas into colander and rinse well with water, set aside.
Add olive oil to large pan, and heat over medium heat.
Add diced onions and cook until translucent and tender, about 5 minutes.
Add spinach and cook until wilted.
Add garlic, diced tomatoes can, tomato paste, oregano, salt and pepper, mix well.
Add black-eyed peas, incorporate with tomato mixture.
Add enough water so the beans are covered by about ½ inch.
Bring to boil then reduce to simmer, cover and let cook for 45 minutes, or until beans are tender.*
Once done, remove from heat, plate, and serve!
*During the simmering process, you may need to add some extra water if it gets too dry. Also, remember you can always taste it as it's cooking to gauge if you'd like to add more spices.
Recipe by
Lemon & Olives
at https://www.lemonandolives.com/black-eyed-peas-with-spinach/