Mykonos Onion Pie | Kremidopita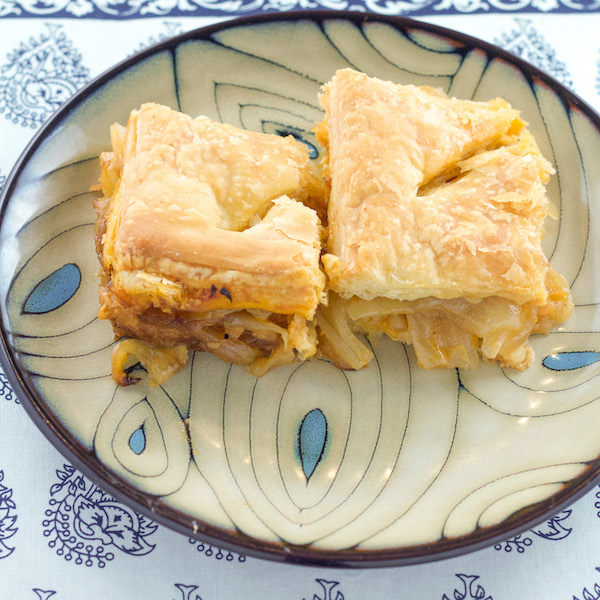 2 lbs onions (about 5-6 large), peeled and sliced in half
3 tablespoons olive oil
1 tablespoon tomato paste
salt
pepper
1 teaspoon paprika
1 box puff pastry (containing 2 sheets) thawed.*
Take each onion half and slice vertically about 4-5 times.
Heat olive oil in a large pan over medium-high heat.
Once pan is hot, add in onions, and cook for 7-10 minutes. You want them to be soft and have a nice color.
Next, add in tomato paste, salt, pepper, and paprika, mix well.
Cook for 5-10 minutes.
Preheat oven to 400F.
Line a 9 x 9 baking dish with some olive oil.
Add one puff pastry sheet to bottom of pan, you may need to trim to line pan.
When onions are done, pour onion mixture over pastry sheet.
Add remaining pastry sheet over top of onions, again trimming to fit top.
Score with a knife diagonally 3-4 times.
Place in oven for 35-45 minutes, or until golden brown.
Remove, let cool a few minutes, slice and serve!
*You can sub out the puff pastry and use phyllo (what we normally use when making Greek pies). For this recipe however, we wanted to try something different.
**Also, adding in some feta is never a bad idea!
Recipe by
Lemon & Olives
at https://www.lemonandolives.com/mykonos-onion-pie/