Cod With Spinach Artichoke Spread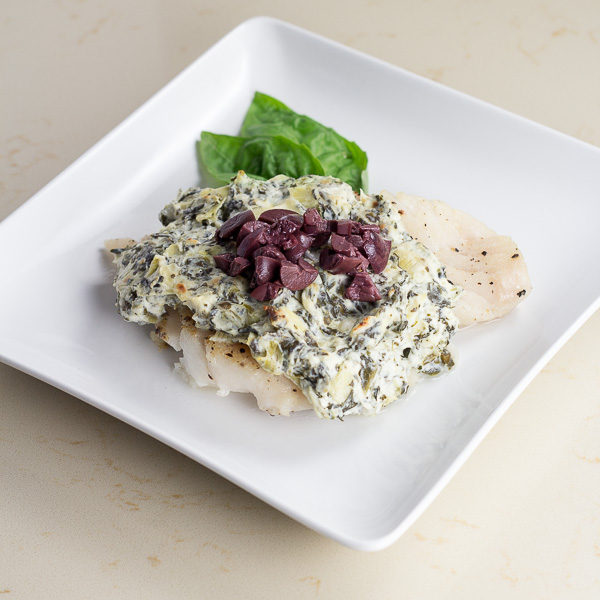 Cuisine:
Greek Mediterranean
-Spinach Artichoke Dip-
1 fresh jalapeño, seeded and diced
2 cups nonfat Greek yogurt
8 oz reduced fat cream cheese
2 tablespoons butter
1 ½ cups parmesan cheese
15 oz artichoke hearts, drained and lightly chopped
10 oz bag frozen spinach, thawed and drained*
3 garlic cloves, diced
-Fish Fillets-
1 tablespoon olive oil
2 cod fillets, fresh or thawed
7 Kalamata olives, chopped
-Artichoke Dip-
Add diced jalapeño to medium saucepan over medium-high heat, stirring occasionally until fragrant and a bit softer in texture.
Add remaining ingredients to the pan. Cook until cheese has melted, stirring often.
Once everything has blended together and has become easier to stir, allow to slightly bubble for a few minutes then remove from heat and set aside.
-Cod-
Heat olive oil large skillet over medium-high heat.
Add cod to pan and cook for 4-5 minutes, then flip and cook for another 4-5 minutes.
When cod is finished, remove and plate.
Now, take a spoonful (or as much as you'd like!) of the spinach artichoke spread and place it over the top of each cod.
Sprinkle kalamata olives over each piece of fish.
Serve with your favorite side.
*Make sure to squeeze out all the liquid before using. Doing it in sections will enable you to remove as much liquid as possible from the thawed spinach.

-Serving is 2, since we're using 2 pieces of fish. However, you will have extra spinach artichoke spread so you can easily double the amount of fish, or save it in the fridge for something else!
Recipe by
Lemon & Olives
at https://www.lemonandolives.com/cod-with-spinach-artichoke-spread/