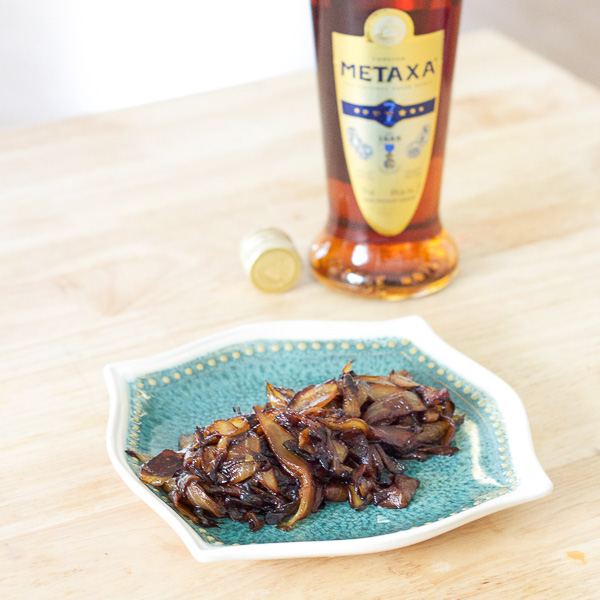 Jane and I are getting pretty excited. Our European trip is just right around the corner. This year we've decided to spend some time visiting other places besides Greece, which I must admit was a difficult choice. However, we'll be spending roughly a month there next summer, so that helps ease the pain.
If there is one thing Jane and I love more than cooking – it's traveling. Europe has so much to offer via history, culture, and picturesque towns. When it comes time to plan a trip, it's always so hard to pick where to go. In all our time traveling however, we've learned one thing that works for us and that we recommend to travelers, especially first timers: spend more time in less places. You'll want days to do absolutely nothing. Spend half the day sitting outside a cafe people watching is one of our favorite things to do, not that that sounds creepy or anything 🙂
You'll just want time to relax. Another thing we recommend is: visit in the non-summer months. Everything is a lot cheaper. Hotels, trains, flights, meals, tours, etc., Also, things are less crowded. Ultimately, go when you can. Just make sure you go!
This year we'll be traveling to: Ireland, Belgium, and France. We're excited to visit all these places. Ireland for its never ending greenery, Belgium for the world-renown beer and chocolates, and France for the food. I don't know if we'll be doing updates while we're there, as sometimes we like to keep our phones off as a way to completely unwind. Either way, we'll share some pictures here when we get back.
Now let's talk about today's simple recipe: Metaxa caramelized onions.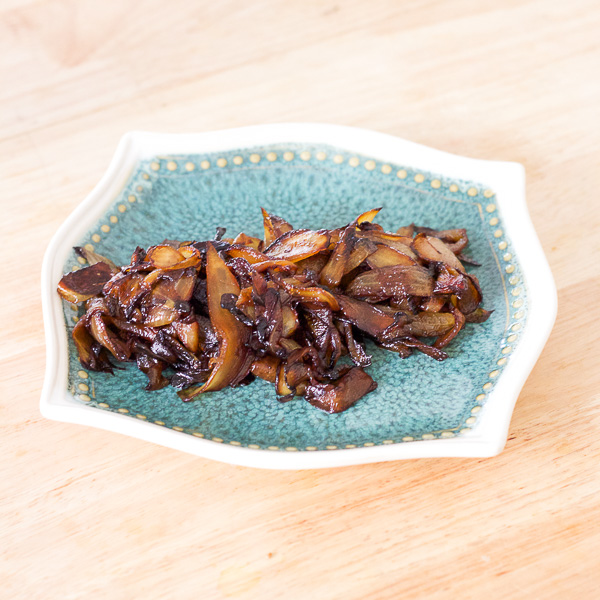 Jane and I love having caramelized onions on our burgers, on top of steak, and any other time we can get away with it. They are so delicious. Recently, I made them 3 times in one week! We were using the BBQ a lot and figured why not – putting them over lamb burgers is never a bad choice.
Normally, when making caramelized onions, you use water, wine, or beer in the end to gather up all the fond (the sticky brown stuff on the bottom of the pan) created. I had recently picked up a bottle of Greece's beloved brandy, Metaxa, so I thought why not try this.
For those of you that have never caramelized onions before, know that it does take some time. Recipes that say 10 to 15 minutes aren't quite accurate. You need a medium heat and about 30 to 40 minutes to really extract the natural sugars (the brown fond) and create the caramelized look. However, the time is worth the end result as eating onions that are coated in their own sugars is delicious!
Next time you plan on making burgers, or steak, why not add some caramelized onions on top? You'll be glad you did.
Enjoy! Kali Orexi
Kenton & Jane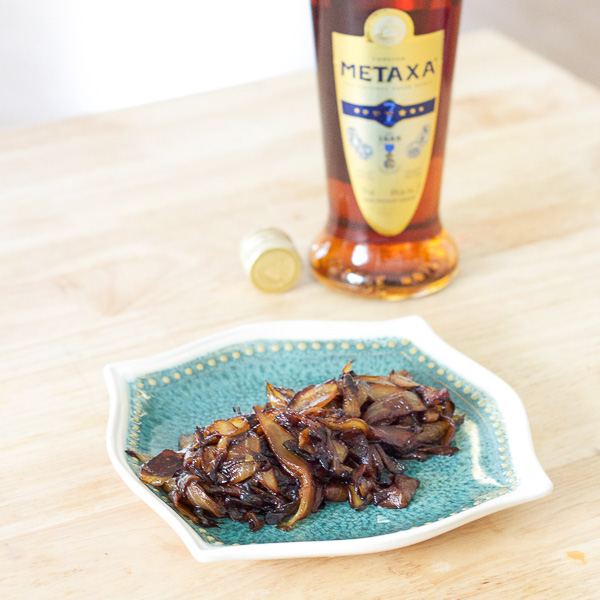 Greek Caramelized Onions | Metaxa Onions
Caramelized onions using Greece's Metaxa brandy
Ingredients
1 onion
2 tablespoons butter
1/2 teaspoon sugar
2 tablespoons Metaxa brandy
Water, see notes
Instructions
Peel and cut onion into slices.
Melt butter in pan, add onions, and mix to coat.
Cook for 15 minutes and then add sugar.
Continuing cooking for another 15 to 20 minutes, or until caramelized.
Once done, add Metaxa brandy and cook for 1 minute, or until liquid is gone.
Remove from heat, put on top of your favorite dish, and serve!
Notes
At any time, if the pan becomes too dry, add a splash of water. This will pick up the fond from the pan, coating the onions, and you can continue cooking. Sometimes you'll need to do this once or twice, others not at all. Just depends on how well the fat from the butter holds up.
Nutrition Information:
Yield:

2
Serving Size:

1 grams
Amount Per Serving:
Unsaturated Fat:

0g