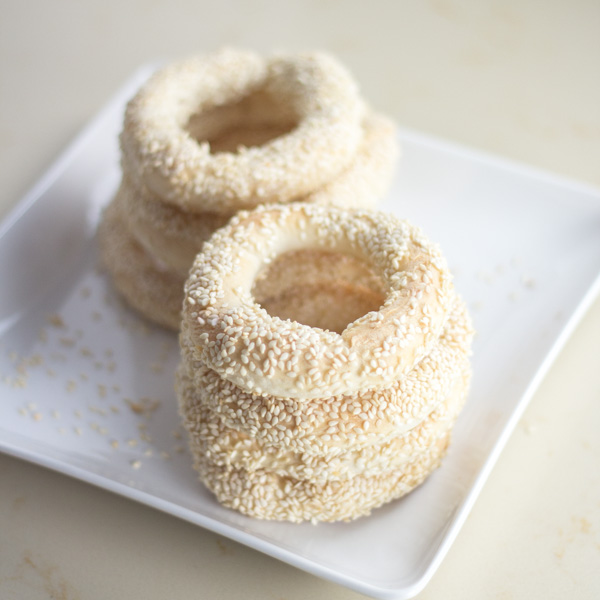 Greek Sesame Bread Rings are a staple in places like Thessaloniki and Athens. You can find them in bakeries, on street corners, and with vendors walking around on busy streets trying to capture the appetite of the morning crowds.
Known as koulouri (κουλούρι), it's best consumed in the morning(or any time of day) with some greek coffee (or any drink). Okay, I'm joking a bit. Yes, you can find these sold all throughout the day but the freshest batch will be seen in the morning. If you're in Turkey, they have something similar called simit. They're pretty easy to make, and perfect for a light breakfast with the family.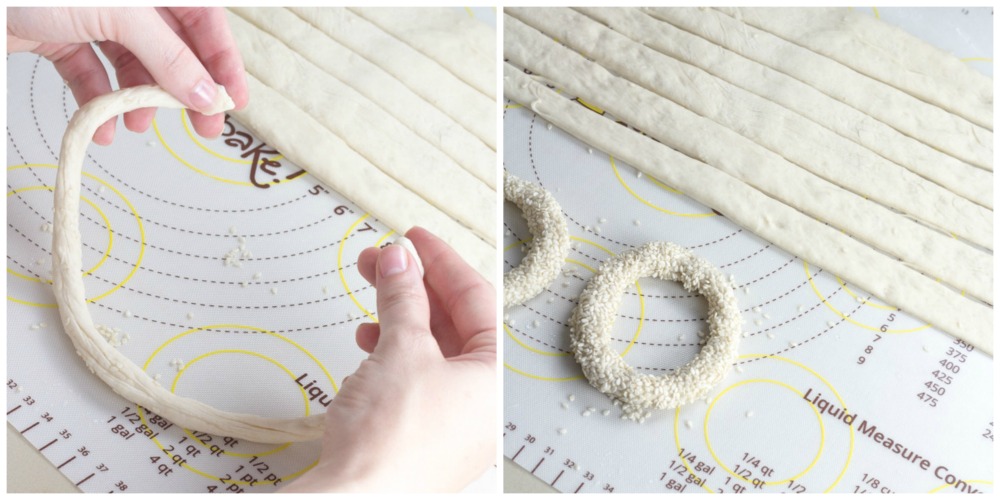 Speaking of family, we've returned from the midwest. We went from 40F (4C) to 85F (25C) and from rain, lightning, hail the size of golf balls and a few tornados to clear blue skies and sunshine. We're pretty spoiled here in California – weather wise, definitely not cost of living wise; of which we're always reminded of when we leave the state.
I mean, where we're from, a 1 bedroom apartment goes for about $1800/month or €1,684/month. Granted there's some wiggle room in one way or the other, it's still a sticker shock when we speak with people who aren't from California. Sure the salaries are higher here, but not accordingly, and not in all fields. However, having been in southern CA for so long, it isn't something we think about. We do get why people may move to other states however – we totally get it. Anyhow, let's now focus on a delicious Greek bread recipe.
Greek Sesame Bread Rings | Koulouri
It's an early morning in Greece. You're up and ready to explore the day. After a night of delicious pastitsio and some Greek wine (or ouzo), you're in need of something light. You walk outside and smell the Aegean mixed with a hint of bread from the corner bakery. Out front you see these sesame bread rings, and many people seem to be buying one. You point to it, and the woman behind the counter says, "1 koulouri" and hands it to you. You walk away holding this greek bread ring. You take a bite and sesame seeds cascade down to the floor. It's simple. It's delicious It's bread. Now you see why so many have them. It gives you the energy you need to walk along the sea, visit the town square, or walk up to see the acropolis and the famous Parthenon.
What is Koulouri – Greek Sesame Bread Rings?
Koulouri are a simple Greek bread that's formed into a ring, sprinkled with sesame seeds, and baked. You may see them stuffed with cheese or nutella (merenda), but traditionally and most common, it's just topped with sesame seeds. It's not too thick and is the perfect breakfast snack/treat. When you bite into this warm delight, you're greeted with a crunchy outside and a softer inside. I've found the later in the day you buy/have one, the more crunchy they may be which makes sense as bread left out becomes harder with time. Pro-tip: buy them early in the day!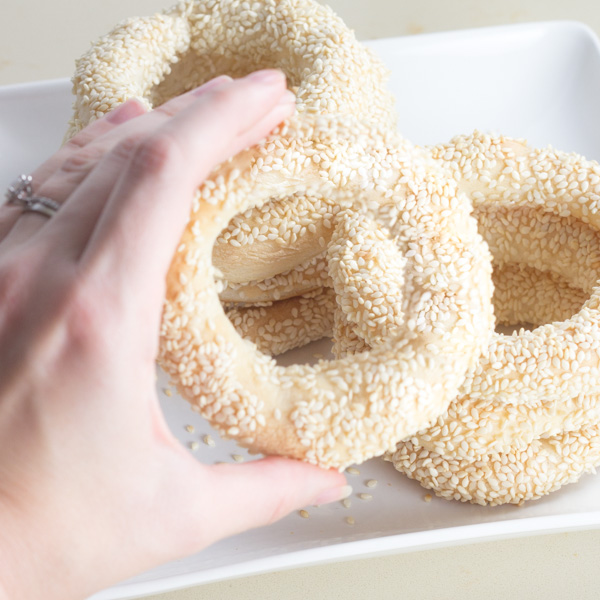 If you're visiting Greece, do not worry, you will find these delicious Greek Sesame Bread Rings everywhere. Just walk into any bakery and ask for koulouri, but you'll see them before you need to ask or see a street vendor or two selling them on your way (which is totally ok to buy from).
Koulouri is made with very simple ingredients, as you will notice in the recipe below. Thus, it's a healthy snack to grab and it's not the worst thing to have for breakfast, especially since you'll be walking/exploring if in Greece. If at home, it's still not bad since you've got your whole day ahead of you.
Now, grab the few ingredients you need and get ready to either be introduced to koulouri for the first time or enjoy these delicious Greek sesame bread rings you already love.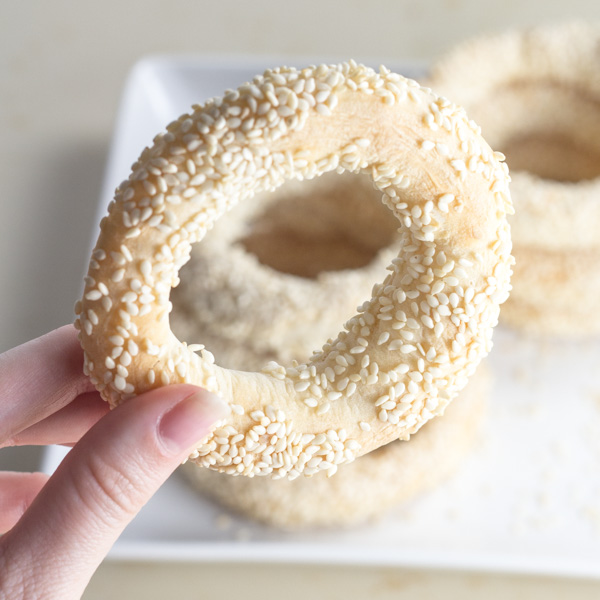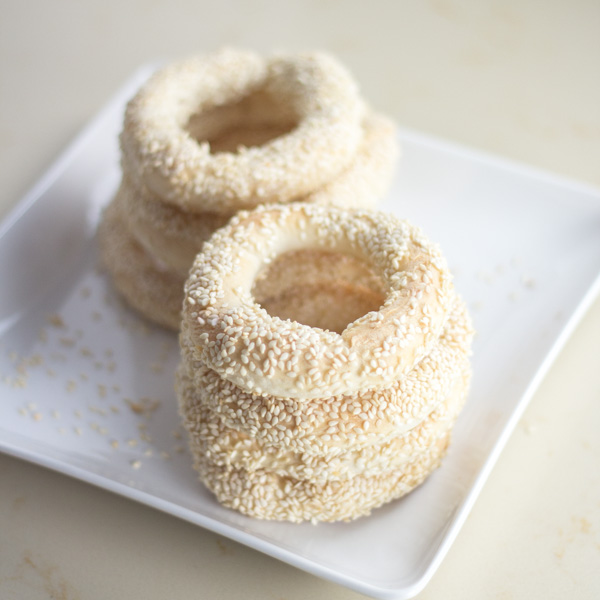 Greek Sesame Bread Rings | Koulouri
Prep Time:
1 hour
40 minutes
Total Time:
1 hour
50 minutes
Greek Sesame Bread Rings or Koulouri, are simple and delicious bread rings covered with sesame seeds. It's a popular morning snack in places like Thessaloniki.
Ingredients
2 cups flour
½ teaspoon salt
1 tablespoon olive oil
2 tablespoons sugar
¼ oz 7g yeast
¾ cup warm water
½ cup sesame seeds, poured into a bowl
Instructions
If you need to active yeast, do so according to directions on packet and then add in all ingredients.
In a large bowl, add: flour, salt, olive oil, sugar, yeast, warm water - mix to form dough.
On a floured surface, knead for 10 minutes to incorporate everything.
Once done kneading, place back in bowl that's been coated with some olive oil.
Cover and let rise until double in size, about 90 minutes.
Preheat oven to 425F.
Place dough on floured surface, and roll out into rectangle about ½ to ¾ inch thick and about 12 inches across.
Cut dough lengthwise in about ¾ inch strips.
Roll each strip on a floured surface to form a string.
Brush the dough strips with water and connect both ends to form a ring.
Roll the wet greek bread rings in sesame seeds.
Place the koulouri on a baking sheet lined with parchment paper.
Repeat process until all dough is used.
Place in oven for 10-12 minutes, or until golden brown.
Once done, remove and enjoy your greek sesame bread rings!
Nutrition Information:
Yield:

22
Serving Size:

1 grams
Amount Per Serving:
Unsaturated Fat:

0g