Is it Monday already? I feel like this past weekend went by a lot quicker than normal. We did have a busy sunday as it was mother's day, but still, why can't it still be the weekend.
This past mother's day was a special one, because my sister had the opportunity to celebrate it for the first time. Having just had her baby, she's still new to motherhood. I'm sure she'd rather have sleep over a day for mom's at this point, but she enjoyed it nonetheless. On top of that, Jane's brother and wife announced that they were expecting, so new moms all around!
Both Jane and I hope you had a great mother's day, too.
Let us now turn our attention to this new recipe. It's bread so of course its amazing. Not because we made it, but because it's bread, and well, that's always good made fresh.
Ever since we got our mixer, we've been thinking of different ways to make everything from loaves to dinner rolls. For this recipe, we had some halloumi cheese on hand, and thought, what the heck, let's blend that in and see what happens.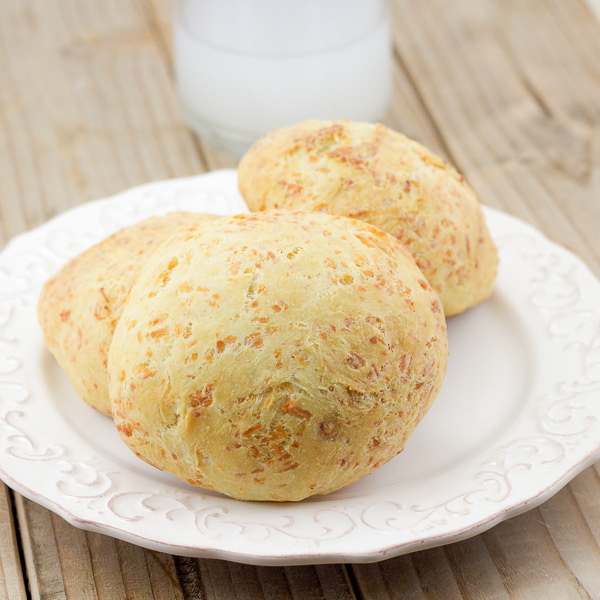 If you've never had halloumi (χαλλούμι) cheese before, it's quite good. Originating on the shores of Cyprus dating back to around 359 AD. It's a semi-hard cheese that unlike other cheeses has a high tolerance for heat, and thus can be thrown on the grill or fried and still maintain its shape. Jane and I love it, and buy it often. It has a subtle flavor and isn't overpowering in our opinion. It is definitely worth picking up next time you're out shopping.
For this recipe, we grated and incorporated it within the dough. This created delectable rolls that produced nice pops of cheese in every bite. It was also visually pleasing as you can see from the pictures above because the cheese turned a nice golden brown.
We did add one unique ingredient in as well, garlic powder, it gives it a subtle hint that we thought worked so well with the cheese and other items within the recipe.
After they cooled, we added them to a few sandwich bags (2-3 in each), and they kept for 2 days. They might be able to stay fresh longer, but that's how long they lasted in our house 🙂 Lastly, serve it with some ouzo for a full Greek experience!
As always, we hope you enjoy this recipe. It's a great way to add some nice cheese rolls to your next dinner.
Yiasou
Kenton

Halloumi Cheese Rolls
Prep Time:
1 hour
50 minutes
Total Time:
2 hours
15 minutes
Lovely cheese brad rolls made with halloumi.
Ingredients
7 ounces halloumi cheese, grated
2 cups bread flour
1 teaspoon yeast
1/2 teaspoon salt
1 tablespoon Greek honey
1 tablespoon olive oil
3/4 cup warm water
dash garlic
Instructions
In a large bowl combine everything except the cheese, mix until dough is formed.*
Knead on lightly floured surface for 7-10 minutes.
Grease large bowl with oil, and place dough ball in, cover with plastic wrap and let it rise until double in size, about 90 minutes.
Remove and place dough on lightly floured surface. Spread out to shape of a square. Add 1/3 of grated cheese, and begin kneading to incorporate.
Continue adding small amounts of cheese while kneading until all cheese is used. May need to add more flour if it gets a bit wet due to the cheese.
Once all cheese is well mixed in, roll dough into ball.
Break off a piece, about 2-3 inches, roll into ball, and place on baking sheet lined with parchment paper. Press down a bit to slightly flatten.
Repeat until all dough is used.
Drizzle olive oil over each ball, and place in preheated oven at 350F for 25-30 minutes, until golden brown.
Notes
*Our yeast doesn't need to be activated, if yours does, follow directions on package before adding in all ingredients.
MAKES 8 ROLLS
Nutrition Information:
Yield:

4
Serving Size:

1 grams
Amount Per Serving:
Unsaturated Fat:

0g