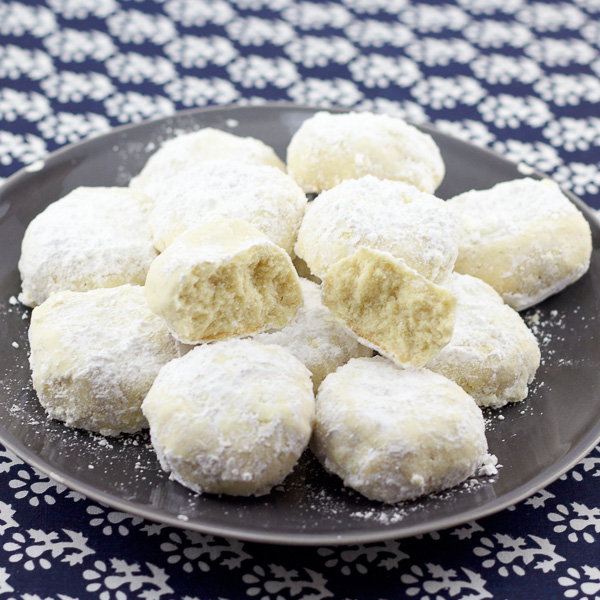 Yes, it's the holiday season once again. I can't believe this year is almost over. As times goes by, I feel each year progressively passing faster and faster. Not cool!
I do however look forward to Christmas and anticipate it for a plethora of reasons, one being this recipe. It's funny because I could make Kourambiethes anytime I wish, but we only make them around Christmas time, and occasionally for Easter, too.
Being that I only eat these around the holidays, when I see these cookies, I think of family, friends, loved ones, time off, and powdered sugar all over my shirt (which inevitably happens no matter what).
When I was small, I would eat as many as I could get my hands on – then enjoy the sugar high! Not much has changed from then, except now I enjoy them with Greek coffee instead of milk 😉
These cookies are so important to Greeks during the holidays. I feel like it's the one dessert you could find in most Greek's homes. I don't know if you can get these at your local Greek festival, so they are definitively worth making. They are fairly easy and taste delicious.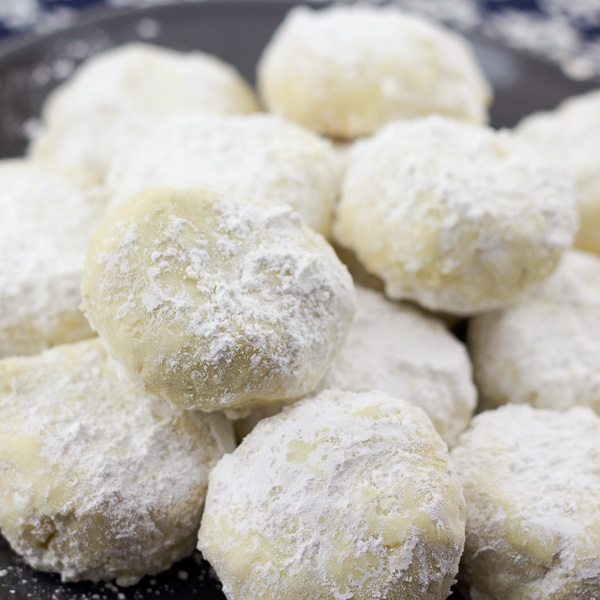 This recipe is very special to me. Not because it's unique, but because it's one of the original recipes my yiayia (γιαγια) had passed down to me. I like knowing that this recipe originated with her in Kalamáta and that she brought it across the pond to the US, and today I am making these cookies the exact same way my family's been doing it for generations upon generations. It reminds me why I have such a passion for cooking Greek food – it connects me with my roots.
I will be upfront here, while they are classified as cookies, they do have the consistency of a biscuit. They aren't moist and chewy, they are more soft and dry. However, don't let that stop you, you'll love them!
Also worth nothing, the recipe calls for brandy, if you don't have any you can use whiskey. If you're not a fan of either or don't have either, most people substitute it with orange juice. Since brandy is a distilled wine, you're looking for a little sweetness. We've never made it with anything but brandy, so if you alter it let us know how it turns out.
And as I always say, the more powdered sugar the better.
As always, if you make them, let us know how you and your family liked them!
Happy Holidays!!
Best,
Kenton
PS. Make sure to check out, Melomakarona, they are the other popular Greek Christmas cookie. They are coated in honey and topped with walnuts.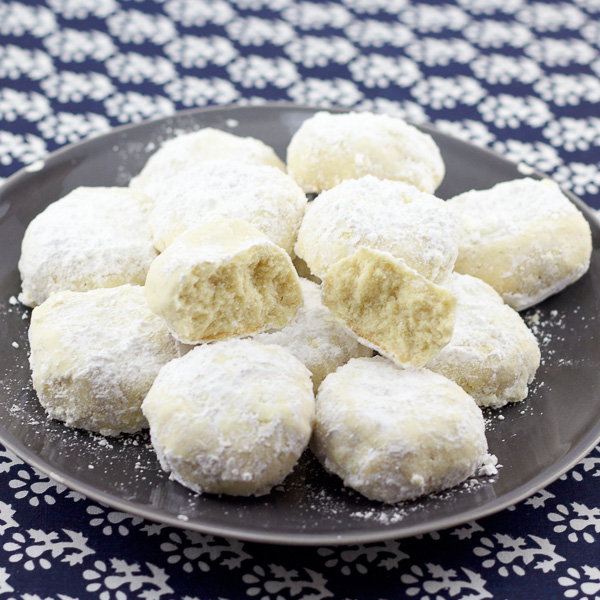 Kourambiethes | Greek Christmas Cookies
Traditional Greek Christmas cookies! Learn to make Kourambiethes and bring a little Greek flair to the holidays.
Ingredients
1 cup butter, at room temperature
1 egg yolk
2-3 cups powdered sugar
1 teaspoon vanilla
1/2 teaspoon brandy, can sub with orange juice
2 cups flour
Instructions
Preheat oven to 350F.
Place butter in bowl and whip until light and fluffy, about 10-15mins.*
Add egg yolk and blend with whipped butter.
Add in 1/4 cup powdered sugar, vanilla, and brandy. Mix well.
Add flour and mix until soft dough is formed. Use more flour as needed.
Line a baking sheet with parchment paper.
Break off small pieces of dough, form into a small ball (or whatever size you like).
Pinch the center of the dough ball to flatten a bit and place on baking sheet.
Repeat until all dough it used.
Bake in the oven for 20-25mins, or until bottoms of cookies are golden brown**
While the kourambiethes are baking, cover serving plates with powdered sugar.
Remove kourambiethes from oven and place on cooling rack for 10-15mins.
Place kourambiethes on serving plates.
Sprinkle remaining powdered sugar over them - the more the better!
Enjoy!
Notes
Traditionally, almonds are added to this recipe either by placing one within each cookie (rolling the dough around the almond so it's inside the kourambiethes), or using almond flour (see comments below). We prefer them without almonds, so adjust accordingly.
*Make sure to really spend the time whipping the butter. This is an important step!
**The cookies themselves won't turn golden brown.
Nutrition Information:
Yield:

20
Serving Size:

1 grams
Amount Per Serving:
Unsaturated Fat:

0g