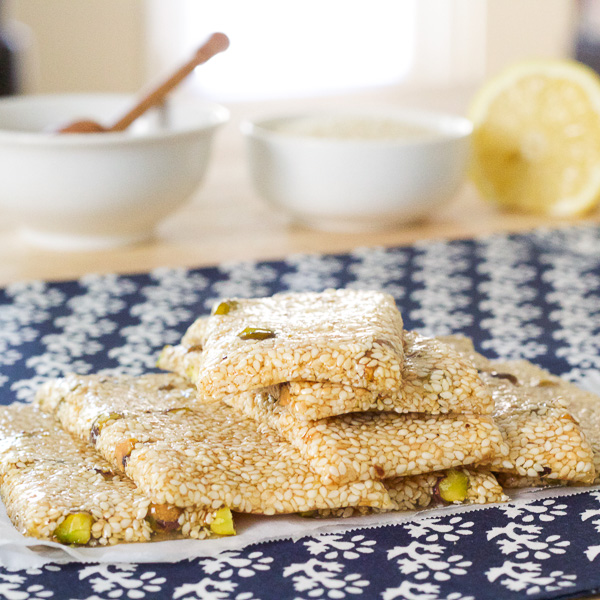 Want to eat like the Ancient Greeks? Well, with today's Pasteli recipe, you'll have that opportunity.
Pasteli (Παστέλι) might be one of the easiest Ancient Greek recipes you can make and one that is still eaten by countless Greeks all around the world. It's made pretty much the same way, yet you may find it with different types of nuts – we added pistachios to mix it up a bit.
We know that sesame seeds have been known to the Ancient Greeks for along time. The Linear B tablets (a syllabic script that was written in Mycenaean Greek), which date back to around 1450 BC, actually has words for sesame seeds and honey – the two ingredients in pasteli! It makes sense then that the word sesame is derived from Ancient Greek.
As a side note, the tablets also includes things like: wine, wheat, oil, flour, coriander, and celery.
Since that time, the Greeks have been consuming sesame seeds and honey. When Ancient Rome invaded Greece, they took the recipe and called it itrion, or sesame biscuits.
The ancients used to eat this as a dessert or sweet snack, but now a days, it's eaten at any time. There are big companies in Greece that mass produce these bars and you can get them in any shop or kiosk. Therefore, every Greek knows about Pasteli.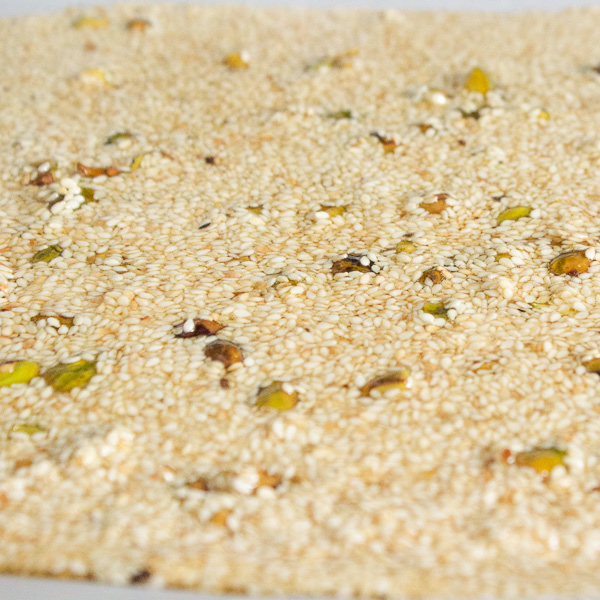 The Ancient Greeks thought honey (meli -μέλι) had healing properties, and they weren't too far off as honey does contain trace amounts of many different antioxidants. The quote, "The nectar of the Gods," is in reference to honey being the meal of the Greek gods or an ambrosia (ἀμβροσία) – foods that the gods ate. As a matter of fact, Zeus was raised on a strict diet of honey and milk.
Sesame seeds are known to contain healthy oils, amino acids, and protein. Therefore, we can arguably call this: The World's First Energy Bar. While I know other ancient civilizations had something similar, it is believed to have originated with the Greeks…or maybe that's my view because I'm Greek 🙂
Either way, it's safe to say that this recipe hasn't changed much over the course of thousands of years that that when you're indulge in pasteli, you're eating the same bar that people like Plato, Socrates, Sophocles, and even Alexander the Great ate – I mean, you need a lot of energy to conquer the known world by the time you're 33.
A few notes about the recipe.
Like you'll find in Greece today, feel free to add any nuts you like. Mix it up and get creative. We added pistachios.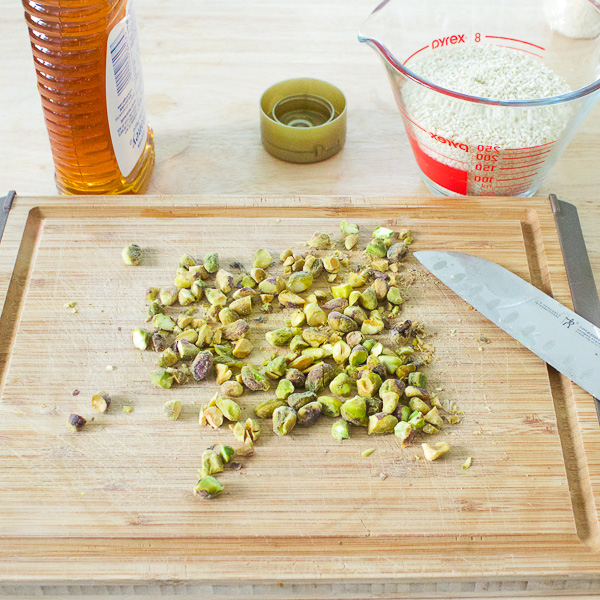 The quality of honey will make or break this recipe. Make sure you're not only using good honey, but it's one that you like. Our personal favorite is greek honey. It has a completely different taste than ones you'll find in your local market. Normally, it has a hint of thyme. The reason for Greece's unique honey is the fact that the bees pull from over 700 different species of flowers only found in Greece, giving it a complex unique flavor.
We found that toasting the sesame seeds released their fragrance and flavor. Just make sure you don't over-toast, or it will alter the taste.
Keeping these in the refrigerator will keep them semi-hard. Otherwise, they may get a bit sticky. You can alter this by adding some sugar to the process (see notes in recipe) which will make them hard without the need to keep them cool. We didn't do this since we wanted to keep them traditional and what the ancients would have done.
Overall, we hope you'll love these as much as we did!
Kali Orexi
Kenton & Jane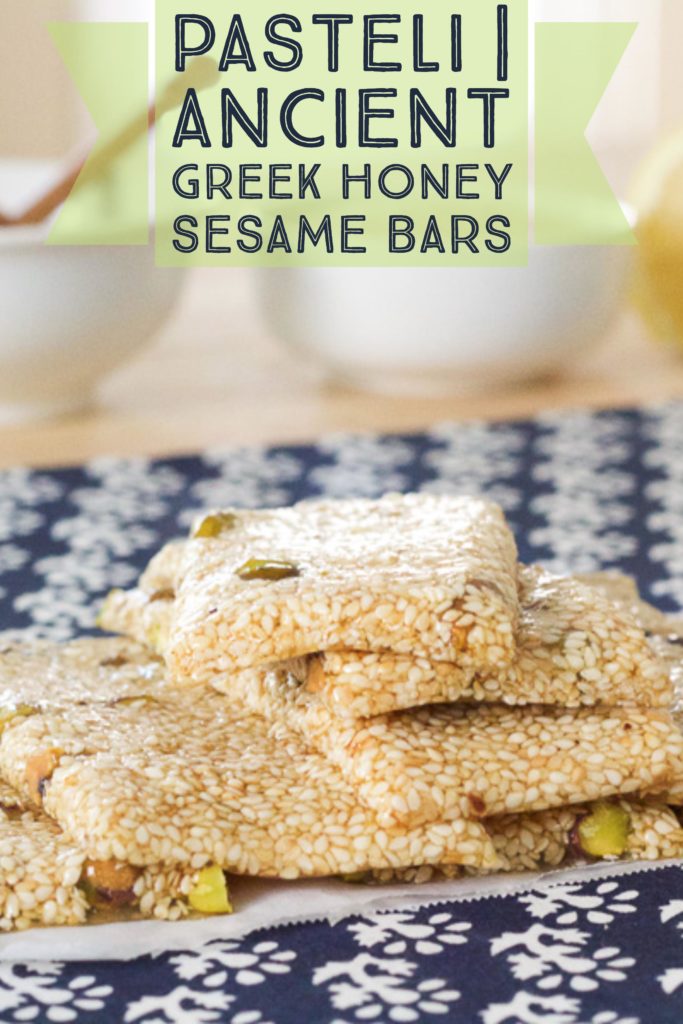 If you like these, check out our other variation: Homemade Nut Bars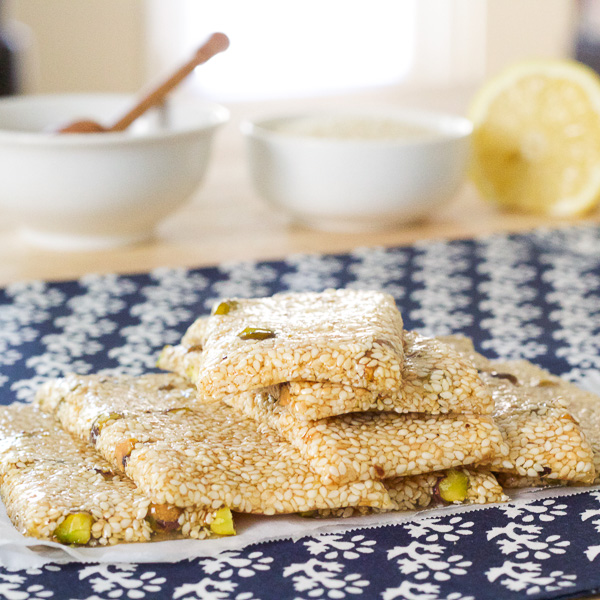 Pasteli | Ancient Greek Honey Sesame bar
Make the worlds first energy bar!
Ingredients
1 cup sesame seeds
1/3 cup pistachios, optional, cut in halves
1/2 cup honey
1 inch lemon peel
1 teaspoon lemon juice
1/4 cup sugar, optional - see notes below*
Instructions
Add sesame seeds to pan and cook over low to medium heat until lightly golden brown.
Once done, remove from heat, and empty seeds onto plate to stop them from getting too dark, set aside.
Add honey, lemon peel, lemon juice, and sugar if using, to a pot.
Heat over medium heat until simmering, stir continuously for 5 minutes.
Turn of heat and immediately add sesame seeds and pistachios to honey and mix well.
Empty onto a baking pan lined with parchment paper.
Flatten with back of spatula brushed with olive oil to avoid sticking.
If not using sugar, place in refrigerator and allow to cool for about 20-30 minutes.**
Once it is semi-hard remove and cut into bars or desired shapes (pro tip: wrap each bar in parchment paper and store in container in fridge).
Serve!***
Notes
*Adding sugar will make them harder and they should stay firm even while being left at room temperature.
**If using sugar, cool at room temperature and check to see when they become semi-hard and cut into bars. Don't wait too long, as the sugar will make them hard and difficult to cut.
***These will be soft and bendable. They won't be rock hard like in the stores, as this recipe says true to its ancient roots. Store in refrigerator. They make delicious chewy energy bars!
Nutrition Information:
Yield:

12
Serving Size:

1 grams
Amount Per Serving:
Unsaturated Fat:

0g
Recipe note: This was adapted from
Food from Many Greek Kitchens
. A very cool cookbook we recently bought.