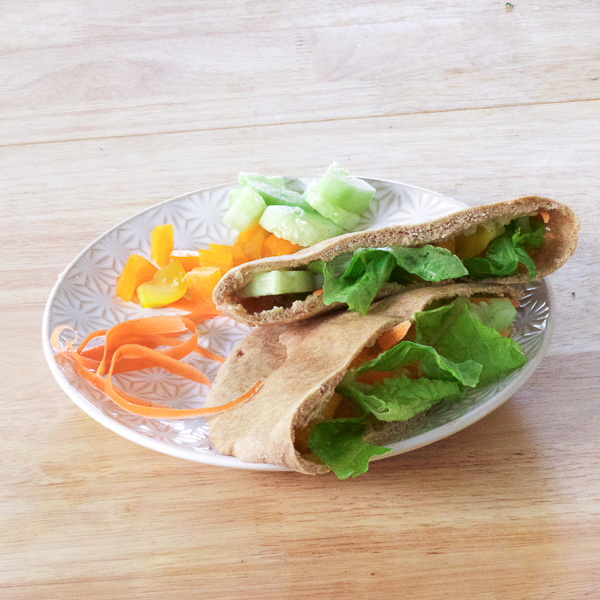 I'm happy to report that Jane and I have, up until now, stuck to our plan of healthy Mediterranean eating until our wedding.
It's actually been really fun coming up with recipes and trying dishes we normally wouldn't have tried. We're also eating fish a lot more and a vegetarian meal once a week.
To help in our quest, and to make cool things like zucchini flatbread and veggie noodles, we bought a spiralizer. Jane discovered it a few weeks ago and decided it would be fun to have on hand. She was right, it's funny how simply changing the shape of a vegetable opens up a whole new area of foods and creativity.
One of the things people wanted to see more of in 2015 was Mediterranean recipes. This is our first step in that direction, besides all the lovely Greek recipes of course 🙂
When changing eating habits, one of the things we can do to make sure were successful, especially in the beginning, is to keep it simple. This is what today's recipe is all about. May I introduce you to: Pita Stuffed With Veggies
When Jane and I sat down to map out our weekly meals (since work keeps us busy we need to plan ahead) we identified problematic areas – like lunch time. On days off, it's easy to make nice meals during lunch, but what about when you're at work? Getting up extra early to prepare a nice lunch isn't always going to work out, and on the days it doesn't what do we all do? Go for the easy and more often than not – unhealthy choice. To minimize that. we've been creating simple lunches that we'll share here in the coming months.
Not all of them are crazy inventions of new recipes, as sometimes you don't need to reinvent the wheel.
Another thing that we tried to do when feasible is make as much from scratch as possible. For this recipe, we made the hummus and pita (recipe and video coming this week) ourselves. Not only does this save money, it also taste so good to have fresh ingredients all around.
Why This Is A Perfect Mediterranean Lunch
In addition to it being very easy to make, it also keeps you full. We made our pitas with a high fiber whole wheat flour, which boasted 13g of fiber and 16g of protein per 1 cup. If you're buying them at the store, check the nutritional information to see the amount of fiber in the pita. Fiber helps keep you full longer and is great for your digestive track.
Moreover, you can basically fill it with your choice of veggies. You can use the ones we used, or stock up on your favorite and use those. It's versatile and easy and when you have that down, the chances of you making this and eating it for lunch are a lot higher than something more complex.
I am so used to having something crunchy when I eat a sandwich (i.e chips), so serving a side of crunchy cucumber really helped curve that, so if you're like me, I suggest you do the same as well.
Lastly, you get the trifecta of goodness the Mediterranean diet calls for: breads (grains), legumes, and veggies. This is achieved via the pita, hummus, and whatever vegetables you use. Therefore, you're left feeling full and guilt free.
By mixing up the veggies and using different combinations, Jane and I were able to eat this for lunch for the better part of a week before we wanted to mix it up with something else.
We hope you'll add this into your lunch cycle during your busy work week.
Here's to eating healthy in 2015!
Kenton & Jane

Pita Stuffed With Veggies
A simple healthy lunch for those busy days.
Ingredients
1 pita, or pita pocket as some stores carry them
1/2 cucumber, skin removed and cut into slices
1 bell pepper, yellow, red, or orange our our favorites, cut into bite size pieces
2 tablespoons hummus
2 pieces of romaine lettuce
1 carrot, shaved.
Salt and pepper
Instructions
Cut pita in half and separate sides to create pockets for veggie stuffing.
Take one tablespoon of hummus and line the inside of one pita pocket, use remaining hummus to line the other half.
Sprinkle with salt and pepper.
Stuff half of veggie mixture into one pita pocket, stuff remaining veggies into other.
Top with lettuce.
Enjoy.
Nutrition Information:
Yield:

1
Serving Size:

1 grams
Amount Per Serving:
Unsaturated Fat:

0g