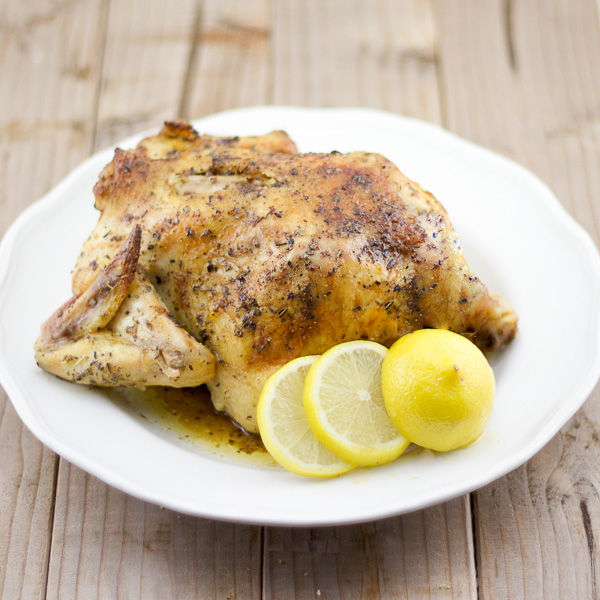 The only time that I have ever cooked an entire bird is one year while living in England. I wanted to make sure that I had a proper Thanksgiving for both Kenton and I, so I bought a Turkey from the local store, took out its' insides (gross) and watched a Youtube video on how to prepare it. This included making a butter rub and massaging it underneath the skin of the turkey. It was all very overwhelming but you know what, I did it and I felt very accomplished afterwords. I was having a group of friends over so it was very important to me that this thing turn out amazing…and guess what, it totally did! Now, my green bean casserole is another story (it's only because I didn't know that the cream of mushroom I was getting from the store would be so watered down). Eh, you live and learn.
This experience brings me right into how I was not the least bit nervous to make today's recipes, this beautiful whole chicken with lemon and oregano. I already knew that in my local store the insides of the bird would already be prepackaged in this neat little bag (no fuss there). I knew the cooking time would be about 20 minutes per pound (check). Also, I knew that by basting it throughout the cooking time as well as sticking some tin foil over the top for the last 20 minutes would guarantee that I not only had a juicy bird, but a perfectly browned one as well (easy peasy).
The only difference in my experience from this year to the one three years ago was that I would be photographing this meal. In all its glory I knew that this bird would be on display. To tell you the truth, I was excited. I thought about all of this as I put lemon juice and the rind inside of the chicken, topped it with olive oil and oregano, and preheated my oven. I was also going to serve it with a nice vegetable that I thought would compliment the chicken. Seriously, this night was going groovy.
After this beauty of a protein came out of the oven I was ready and rearing to go. I set it on the serving plate and put it directly into the light box. After I took a few shots, although I thought it was beautiful, I couldn't get it out of my head that something was a little off. Hmmm, couldn't quite put my finger on it. Oh well, this was the big moment that I could showcase my work of art. Why was I dwelling on the little things? Hmmm, I don't know but I was still hung up on something. I thought, maybe it needs some garnish. Yes, that's it, garnish. I placed a few slices of lemon on it and took a few more photos. Yeah, that was nice but still, what's going on with this bird? I rotated the plate a few times, still, nothing changed. I couldn't focus on this all night, we had to eat after all. I turned off the camera and the light box lights and went into the kitchen to carve up some chicken.
Knowing full well that Kenton prefers white meat, I started to carve near the top only to feel tension and resistance. I moved the knife around and started to think that I was doing something REALLY wrong. I guess I didn't know much about cooking and serving a whole bird at all! It was then that it dawned on me. The bird was upside down. The whole time…I cooked it upside down, I photographed it upside down, and now I was trying to carve it upside down. Oh my goodness…I immediately explained to Kent what I had done and the biggest saddest frown was planted on my face. Kenton started to laugh which made me inevitably smile as well. Still, I was so disappointed! I had already cut the chicken to shreds so I couldn't rephotograph it. Oh how sad this was. Okay, maybe not really that sad and more funny than anything. It all just made me realize that you can still be an amateur even with some cooking and recipes under your belt. Never underestimate a big recipe and never deny what your gut is telling you. This all may be a silly story to tell but why I wanted to share it was because the journey of cooking is so unique…and fun…and sad…and exciting…and disappointing at times too. It's all a learning experience. Being able to look back and say, "I cooked the best turkey ever" or "I photographed my chicken upside down" is all part of the journey. Haha, enjoy! Kali Orexi!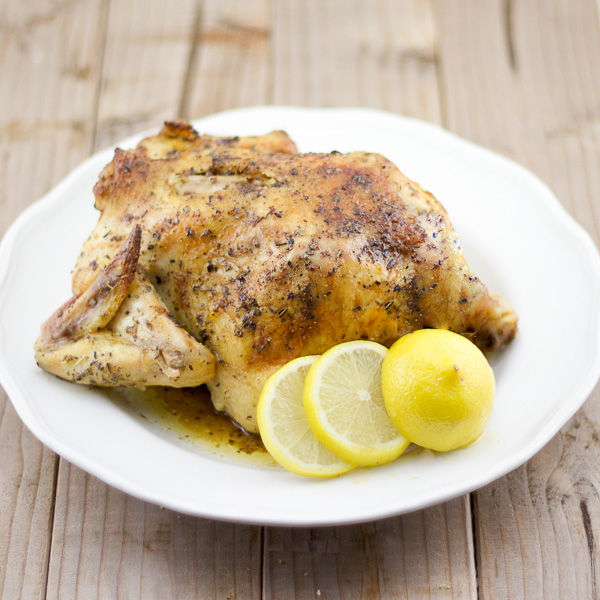 Roast Chicken with Oregano
Cook Time:
1 hour
40 minutes
Total Time:
1 hour
50 minutes
Roast Chicken with Oregano
Ingredients
3 1/2 - 4 lb whole chicken
1 lemon
4 tbsp dried oregano
2 garlic cloves, crushed
2 tbsp butter
3 tbsp olive oil
Salt and pepper
Instructions
Place the chicken in a large pan
Grate the rind from lemon and then cut the lemon in half.
Add the lemon rind, 3 tbsp of oregano, juice from 1/2 a lemon, and garlic inside the cavity.
Rub butter, the juice from the remaining lemon half, and olive oil over the chicken.
Sprinkle with any remaining oregano, salt and pepper.
Place both lemon halves inside of the chicken cavity.
Roast the chicken in the oven at 375F for the cooking time that you have calculated.*
Bast the chicken periodically until golden brown and juices run clear when chicken is pierced.
With 15 minutes left, cover chicken loosely with aluminum foil to prevent skin from getting burnt (it is best to do this when desired color of chicken is reached).
Carve chicken and spoon any liquids from the bottom of the pan on each serving.
Enjoy!
Notes
*Allow 20 minutes per pound plus 20 minutes in order to calculate the correct cooking time.
Grate the lemon rind while its dry and it helps it stay flakey for the marinade
Nutrition Information:
Yield:

4
Serving Size:

1 grams
Amount Per Serving:
Unsaturated Fat:

0g