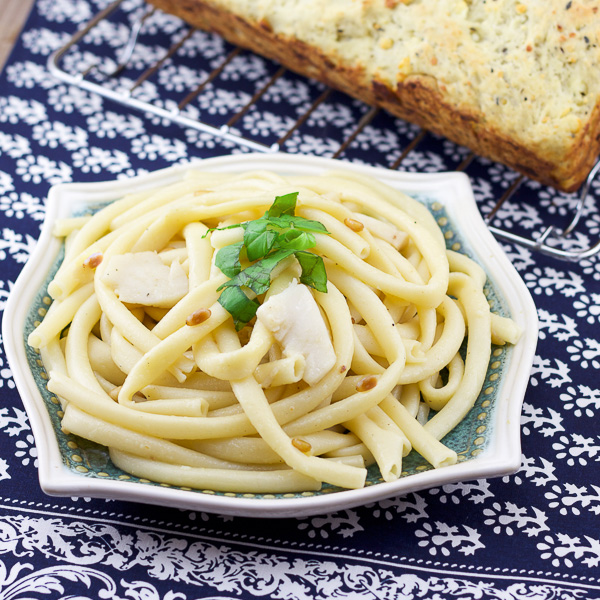 These past few weeks have been incredibly busy. Both Jane and I have been running full steam. With this site, side projects, moving, and our new niece, things have been moving quickly. However, when I sit down and think about it – I wouldn't have it any other way.
That's the one thing I love about cooking – it's creates a time to stop, relax and enjoy good food and great company. For Jane and I, sometimes we're busy with our jobs that we'll hardly speak the whole day, so dinner is the time where we can go over our days, share our frustrations and happiness, and ultimately spend some time together.
That's what this site is all about for us. Besides exploring a fantastic cuisine, creating recipes, and following our passions – it's a time to work together, to bond, to engage in activities that strengthen our relationship – it's a fail safe switch that easily enables us to make sure we're spending quality time together each day.
With all that being said, time isn't always on our side and elaborate dinners don't always fit into our schedule. So, when times an issue, we turn to easy dinner ideas that highlight taste, simplicity, and of course Greece!
Thus, enter this dish.
I'm a big fan of scallops and these delicious Greek noodles. You may have tried them before if you've ever had the pleasure of eating Pastitsio. They are long hollow macaroni noodles made with 100% semolina. You can buy them here if you're a fan or would like to give them a try – Greek Pasta.
We went to our local Mediterranean store recently, and like always, I buy bags and bags of these and other types of Greek pasta. So, when Jane questioned what we should make for dinner the other day, it was obviously going to include these :)
We came up with the idea for scallops because we haven't really cooked them a lot, and we thought it would be good to cook something we were unfamiliar with. When we were at the store we spoke with the fishmonger to get some ideas about cooking time, and pitched him a few different ways we were going to make it just to get his input.
On a side note: surprisingly a lot of people don't really talk to the person behind the counter helping them with their fish and meat orders. You should! They're pretty knowledgeable people who can give you some great tips/ideas.
We went with pine nuts because be both love them as they add the perfect amount of texture to a lot of dishes- and flavor too. And the basil, we have a fresh basil plant, and we've been adding it to a lot of dishes because we love the fact that either of us can just pick it off the plant.
This dish turned out fantastic, and I think anyone who has a soft spot for scallops will find this easy pasta dish a home run.
Let us know what you think!
Until next time my friends,
Kenton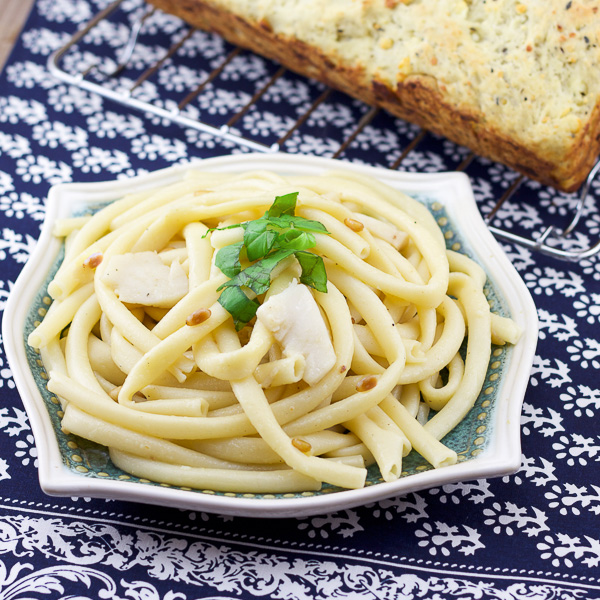 scallops and pasta
A delicious Greek scallops and pasta dish!
Ingredients
1 lb 16 oz Greek noodles, or similar long hollow pasta
1/2 cup olive oil
2 garlic cloves, pressed/chopped
1/4 cup pine nuts
8 scallops, sliced
2 tablespoons fresh basil for topping
salt and pepper to taste
Instructions
Bring water to boil, and cook pasta for 10-12min, or until al dente.
About 5min before the pasta is to be finished, add oil and garlic to pan and heat. Cook over med/high until oil is hot and garlic releases a nice fragrance.
Add pine nuts and cook until they begin to brown.
Add scallops and cook for 1-2min or until they begin to turn opaque.*
Drain pasta and place back in pot.
Empty pan with scallops into pot with pasta and mix well.
Remove and place on separate plates
Top with fresh basil and serve!
Notes
They cook quicker than you think. Just keep checking, if overdone, they can turn out rubbery
Nutrition Information:
Yield:

4
Serving Size:

1 grams
Amount Per Serving:
Unsaturated Fat:

0g