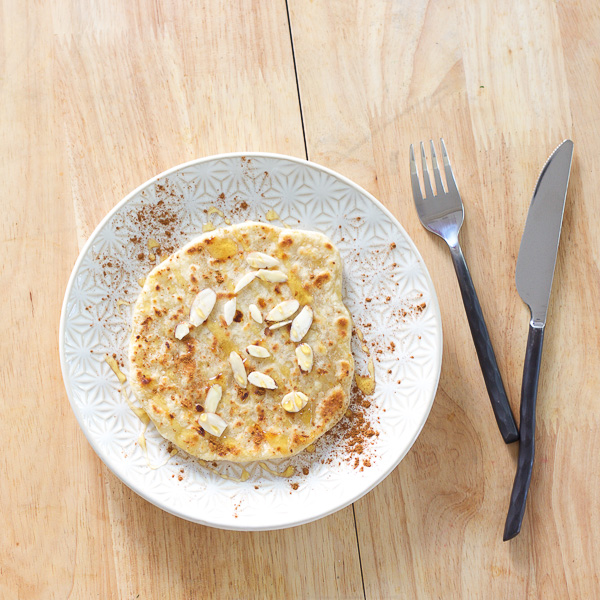 There has been a lot going on these past few weeks in our home. First off, the wedding planning is into the final stages. We're finishing up the last minute details, and with only a few months away, I still need to book a DJ. Despite it being our wedding, Jane and I don't really like the whole plan months and months in advance stuff. I think it's because it's not us. Sure we plan out stuff to an extent, but we're more of a go with the flow type. We sway back and forth doing what we like or what we discover to be interesting.
I think a part of us just wants to skip everything and go straight to planning the honeymoon. I mean, who doesn't want to start planning vacation time? I guess the only question with that is: do we go somewhere comfortable to relax for a few weeks, or pack it to the brim with adventure?
Additionally, as if we didn't already have enough on our plate, we're moving. We're staying within the city we currently live in now (extremely close by actually), so it shouldn't be too bad. Jane and I are pros at moving, having moved about 8 times in the last 7 years. We tend to move all the time.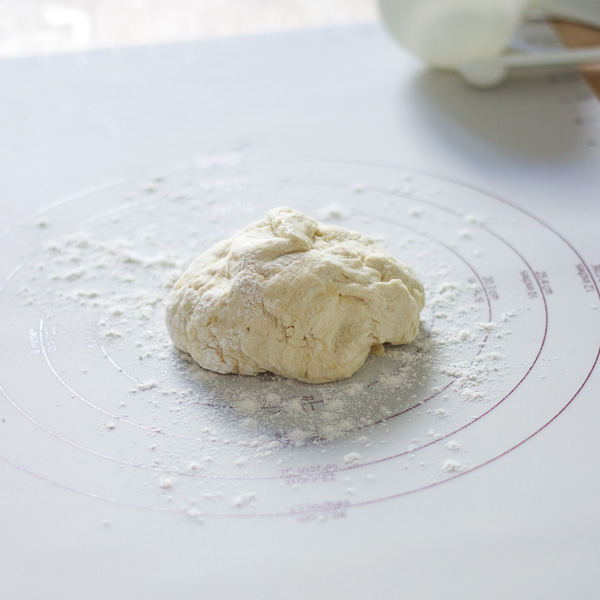 I will admit however, we hire movers. In the beginning, we did it all ourselves, then one year we decided to hire a moving company. Wow, it changed our lives. We learned to organize everything, stacking all related boxes (kitchen, bedroom, etc.,) on top of one another. They come in and can easily go back and forth loading up the truck (and unloading as everything is together), it's great on everyone. The best part is that you arrive at your new place fresh, and not exhausted and tired. We can unpack and have it seem like we've been living there for years within 24hrs. It's perfect. Yes, it is an added expense, but sometimes it's just worth it.
Lastly, in the midst of all this, I went ahead and started a three month long intensive coding school. I'm loving it thus far and really excited about taking my coding skills to the next level. I'm learning Ruby, Sinatra, and Rails for those of you that are curious It's great and I recommend everyone learn code! If you're interested in learning to program as well, contact us, and I can tell you a bit more about it.
Alright, let's get onto today's new recipe: Sfakianopita σφακιανόπιτα | Cretan Cheese Pie With Nuts And Honey
On Jane's first time to Greece, we stopped at the island of Crete, located south of the mainland. Crete is a great place and home to the Mediterranean diet. What I love about Crete is they have their own way of doing things (other regions do as well) that I really appreciate. Cretan food is delicious.
While we were there sitting at a little table in lions square looking at the beautiful venetian Morosini Fountain the server brought us this dish, Sfakianopita.
"What is it?" we asked. "It's dough mixed with cheese, fried, and topped with honey, nuts, and cinnamon." Sounded good, so we decided to give it a try
We ate 2.
From time to time we think about the dish, yet I was unable to find a recipe for it. Then one day, while watching the cooking odyssey, we saw them make it!
We gave it a try and were forced to modify it, as we didn't have the local raki or mizithra cheese on hand. The result is what we present to you below.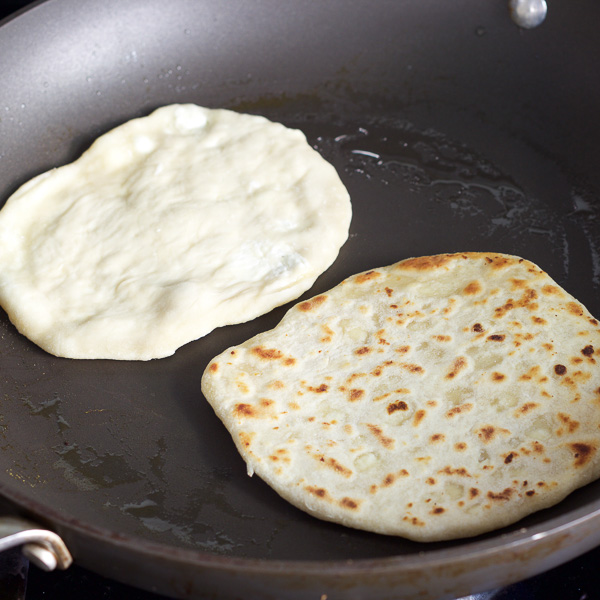 We love these things, and at times have to force ourselves to stop eating them. The dough does resemble a pancake like consistency, it's just mixed with cheese and topped with honey. Therefore, we think it could be both an appetizer and a dessert.
If you're not into sweets, gauge the amount of honey you use, or leave it out altogether. It goes great with coffee, or a sweet wine.
We hope you enjoy our version of Sfakianopita!
Kali Orexi!
Kenton & Jane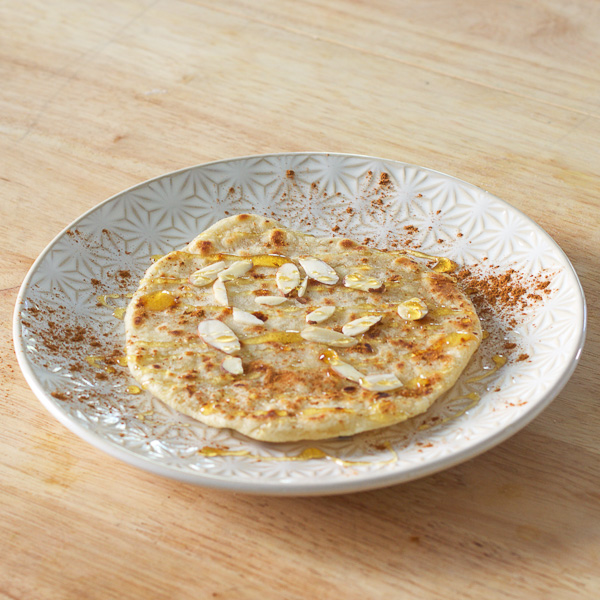 Sfakianopita | Cretan Cheese Pie With Nuts And Honey
A delicious cheese, honey, and cinnamon pie from Crete.
Ingredients
1 3/4 cups flour + extra for kneading surface and adding to dough*
½ cup water
2 tablespoons olive oil + extra for frying
1 tablespoon lemon juice
1 tablespoon brandy**
1 teaspoon salt
¾ to 1 cup crumbled feta*
1/2 cup chopped nuts of your choice
ground cinnamon
honey
Instructions
In a large mixing bowl, combine: flour, water, olive oil, lemon juice, brandy, and salt. Mix until dough ball is formed.
Place dough ball on floured surface and knead for 10 minutes. If too wet/sticky, knead in some extra flour. You will probably need to do this. If too dry, add some water.
Once dough is kneaded, break into 5 equal parts and roll each piece into a ball.
Take one dough piece and roll it out flat into a pancake shape, about 6 inches width and ¼ inch thick.
Place a tablespoon (or more) of feta cheese in center, fold side over, and knead the dough and cheese together, until the cheese is well mixed in.
Once the cheese is well incorporated, roll back out flat to the same pancake shape as in step #4, and set aside. Repeat with other dough pieces.
Add a few tablespoons of olive oil to a pan, and heat over medium-high heat.
Place one Sfakianopita on the pan, and cook for about 5-6 minutes on each side, check bottom, when golden brown, flip.
When done, place on plate lined with a paper towel to absorb excess oil. Repeat until all Sfakianopita's are cooked.
When ready, sprinkle some of your favorite chopped nuts over each Sfakianopita. Sprinkle with some cinnamon, and drizzle with honey.
Serve warm!
Notes
*We've made this a few times and the flour ratio seems to change from what we have here to 1/2 cup more, so just have some extra on hand and add a little at a time to get the proper consistency.

**Traditionally, the cheese used is mizithra and instead of brandy, raki is used. However, these may be hard to find, so the substitutions above will do.
Nutrition Information:
Yield:

3
Serving Size:

1 grams
Amount Per Serving:
Unsaturated Fat:

0g