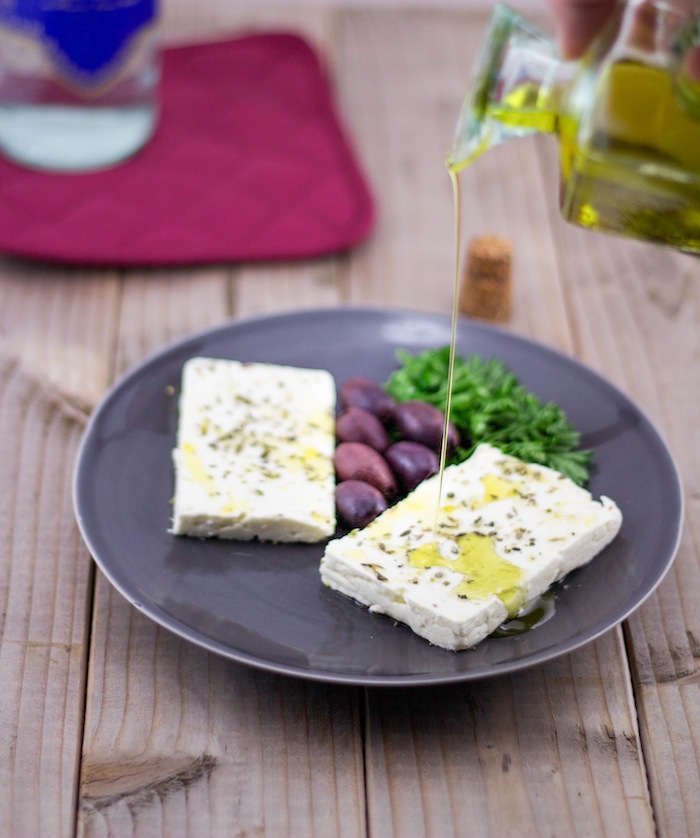 Sliced Feta With Oregano And Olive Oil
The very first Greek dish I'd ever had.
As a little kid, I remember olives and cheese being in my house at all times.
One specific memory is during Thanksgiving. I would put olives on each one of my fingers and run around the house eating them (my parents use to get Kalamata olives without the pit in fear that I would choke). As a matter of fact, every Thanksgiving I think of the times when I was little and did that. I don't do it any longer, but rest assure–I'm always tempted.
Fast forward to today, I now serve this when hosting people, because it's easy and enables me to focus more on the main dish.
It's easy in the sense that if you've cook a Greek dish before, chances are you already have the needed ingredients on hand: olive oil, oregano, feta, olives.
Throw that on a plate–bam! You've got yourself a traditional Greek appetizer (meze). There is no cooking and it literally takes minutes to make.
So go ahead, create this simple Greek dish and make your dinner table look like an authentic Greek Taverna. Also, be sure to check out our other Greek appetizer recipes!
PS. Funny fact, in Greek, "feta" means slice and has nothing to do with a specific cheese.

Sliced Feta With Oregano And Olive Oil
This is one of the simplest Greek apps to prepare and one of my favorites!
Ingredients
1/2 inch slice of feta
1-2 teaspoons oregano, to preference
1-2 teaspoons Greek olive oil, to preference
Instructions
Place 1/2 inch feta on plate
Sprinkle 1-2 teaspoons oregano over feta
Drizzle 1-2 teaspoons olive oil over feta
Enjoy Sliced Feta With Oregano And Olive Oil
Notes
Best served with Kalamata olives, bread and Greek wine!
Nutrition Information:
Yield:

1
Serving Size:

1 grams
Amount Per Serving:
Unsaturated Fat:

0g