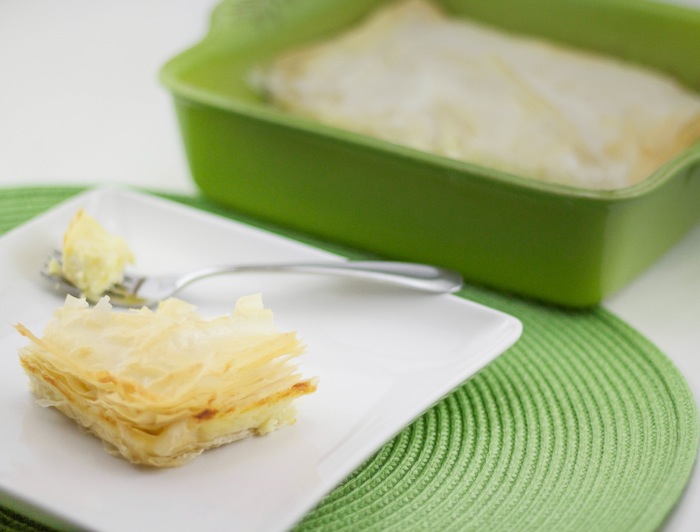 Much like the tiropitakia and spanakopita, this dish can be made in ever popular triangle/ singular format, or in the pie format. Either way, its phyllo with cheese filling — YUM! Obviously in moderation, this dish is a wonderful way to enjoy everything about a light and flaky outside that is mixed with a creamy and cheesy inside.
I never get tired of the smell or the feeling that I get when i'm enjoying a cheese filled pastry. I also find preparing the dish very therapeutic as well. There aren't too many steps and especially when I'm using the singular format, I find that the repetition is calming.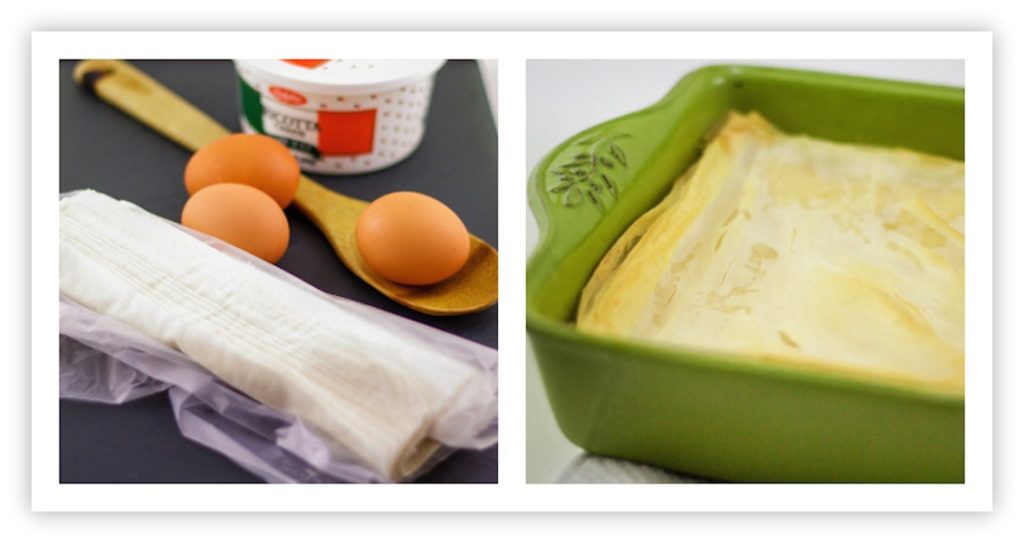 Once out of the oven, the golden brown pie is something that will have your family gathering around. Also great for a special occasion, never stray from the opportunity to give this recipe a try. καλή όρεξη!
Variations: you can layer phyllo in baking dish and add mixture so it comes out like in the picture (not in stripes) and cut into squares. Also, if you don't want to butter each phyllo sheet (I only do it this way), you can use something like cooking spray. Also, from experience, don't reheat in microwave. Makes them soggy.
Tiropita (Greek Cheese Pie)
I love the Tiropita. The cheese and phyllo balance so well. I'm sure you'll love them, too! καλή όρεξη (kali orexi – enjoy your meal!)
Ingredients
1 lb frozen phyllo dough
1 tablespoon olive oil
3 eggs
1.5 cups feta cheese, crumbled
1/2 cup grated parmesan cheese or, kefalograviera
1 cups ricotta cheese
1/2 cup butter, melted
Dash of cinnamon
Instructions
Take out phyllo so it can thaw at room temperature
Lay phyllo flat on counter (or wax paper) and cut to size of baking dish
Cover phyllo with damp paper towel (if not, they will dry out and crack!).
In a large bowl, add eggs, cheese, cinnamon, olive oil, and mix well.
Melt butter.
Brush phyllo sheet with butter and place in greased baking dish, repeat 7 times
Add cheese mixture
Add 7 more layers of phyllo (like above)
Set oven to 400F and bake for 15-20 min (until golden brown)
Serve!
Nutrition Information:
Yield:

4
Serving Size:

1 grams
Amount Per Serving:
Unsaturated Fat:

0g