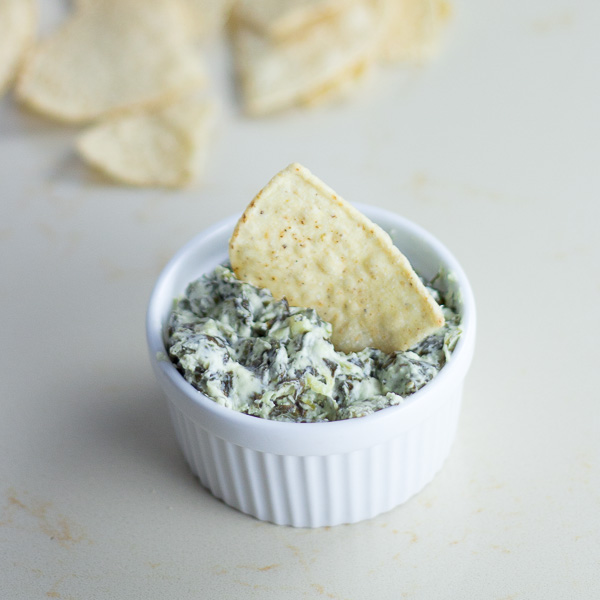 I tell ya, there's nothing you cannot do with Greek yogurt. From appetizers to desserts, it's such an amazing calorie saving protein packed ingredient. For example, this recipe: Greek Yogurt Spinach Artichoke Dip. A healthier version of the cream cheese based dip (this one still has some in it, because cream cheese is delicious after all).
We thought to make Greek yogurt spinach artichoke dip because it's perfect to prepare for family or large gatherings, both of which we currently have in mind. We're actually right outside of Kansas City right now visiting family. It's a nice change of pace from California. I mean, it's about 29 degrees fahrenheit here, which is something we never see. Thus, we're pretty bundled up and I'm sure the locals are looking at us like we're crazy. It might even snow here, so we'll be the ones running around taking all kinds of pictures of the snowy ground. Tourists ha! Anyhow, I digress..let's get back to the food!
Greek Yogurt Spinach Artichoke Dip
Spinach artichoke dip is something we both like. Yet, we always kind of feel guilty ordering it out, because we know it's basically cream cheese, cheese, more cheese, and some spinach. It's not healthy despite it having the powerful green in it. So we wanted an alternative that still carried the same taste, but was generally a healthier version. I mean, sometimes there is a limit of how healthy you can make something. You can sometimes go too far and the taste becomes off and it's not a true representation of the dish. Hey, sometimes you've got to live a bit, right? So find that happy medium.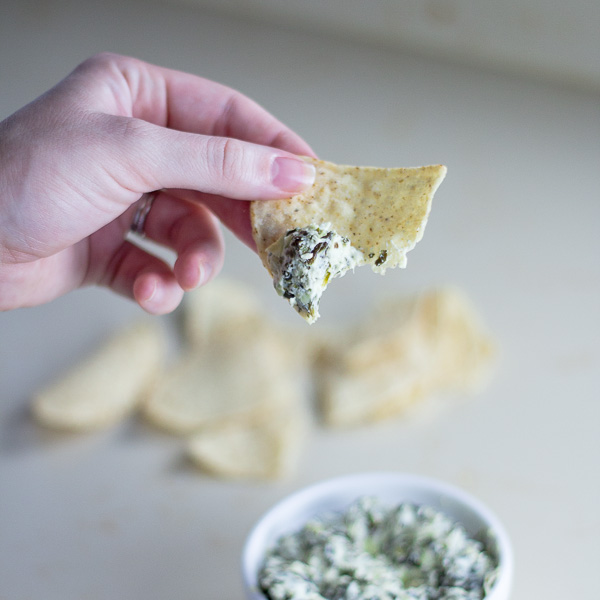 Greek yogurt spinach artichoke dip is everything you know and love about regular artichoke dip, but with a modified amount of cream cheese, no mayonnaise or sour cream, and less cheese. You can probably even lessen some of the quantities, and it'll still come out fine, however. So if you're up for experimenting, go for it.
The results of this appetizer recipe? We loved it! It's also super easy to make. Sure we may be a bit biased, but for using Greek yogurt, it was delicious – I will admit, we use Greek yogurt in place of sour cream on lots of things, so we definitely love the stuff.
So go ahead, give this super quick and easy Greek yogurt spinach artichoke dip recipe a try and let us know what you think!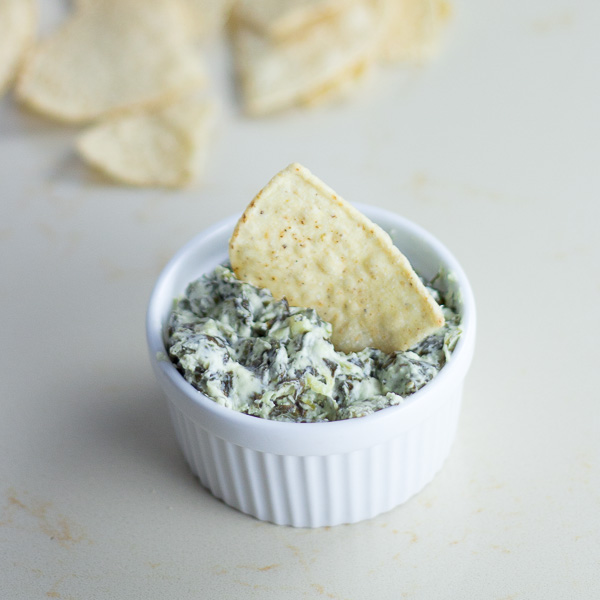 Greek Yogurt Spinach Artichoke Dip
Greek Yogurt Spinach Artichoke Dip is a simple, healthy, lighter version of spinach artichoke dip.
Ingredients
3 garlic cloves, peeled and diced (we love garlic, so feel free to sub for 1 or 2 cloves)
2 cups nonfat Greek yogurt
8 oz reduced fat cream cheese
1 ½ cups parmesan cheese
15 oz artichoke hearts, drained and lightly chopped
10 oz bag frozen spinach, thawed and drained*
½ teaspoon red pepper flakes, optional for a little spice
Instructions
In a pot over medium-heat, add garlic cloves and cook until fragrant.
Next, add in all remaining ingredients.
Cook until all the cheese has melted, stirring often.
Once everything is well incorporated and mixed together, let simmer for 2-3 minutes.
Remove, pour onto a plate, and serve!
Notes
*Be sure to squeeze out all the liquid before adding into the pot.
Pro tip: Squeezing out the water from the spinach in sections will enable you to remove as much liquid as possible rather than trying to do all at once.
*If you like your dip slightly browned on top add it to a baking dish and broil for 5-7 minutes.
Nutrition Information:
Yield:

4
Serving Size:

1 grams
Amount Per Serving:
Unsaturated Fat:

0g