If you told me when Jane and I first started this website that one day we'd write a page on how to start food blog, I wouldn't have believed it. At the time, we didn't know anything. All we had was a desire to showcase our recipes and a smartphone for picture taking.
However, we soon learned that there is a difference between being a food lover, looking at food sites as blogs, and actually starting your own.
For some, they need an extra push, for others a road map of how to's. We've learned so much that it's time to share our knowledge which we hope will result in one thing: your very own food blog!
As with anything in life that we attempt, you may be plagued by all of the negatives over the positives. Like failing, not taking good pictures, lack of traffic, time, etc., etc.
FORGET all of that! Seriously, if the two of us could do it–so can you!
Remember, neither Jane nor I have any professional experience. We just have passion and determination (two things you'll need). We both work full-time, so evenings and weekends are where we get most of our practice in. Sometimes we'll spend the weekend cooking 7 or 8 meals!
The biggest thing you need to ask yourself is: Do I love to cook? Am I willing to take pictures of said food and put them online with a few sentences? Can I do it consistently? If you've answered yes, then continue reading–you're ready to start your own food blog journey!! Don't worry about anything else–it's a learn as you go kind of thing.
This whole process should take you about 15 minutes. There is a lot of information here because we tried to be as detailed as possible with step-by-step directions :)
Food Blog Hosting
This is the first thing you'll need. Yes, you can start out with free hosting, but we don't recommend it. Why? Because you don't own the site, it could be removed at any time, and your url isn't brandable- i.e. it will be yourname.freewebsite.com. The second reason, and maybe the most important, is the act of spending money makes people more determined and more liable to succeed. If you don't spend any money, you're not invested, you can't hold yourself liable, and that can lead to giving up, especially in the beginning.
What do you do? Buy hosting!
We started this blog on Bluehost. And it's the hosting company we recommend–because we're a paying customer and have experience with them. The cost? Only $3.95/month.
Here, let me show you how easy it is:
Click, Bluehost, to be taken to their website, which will look like this: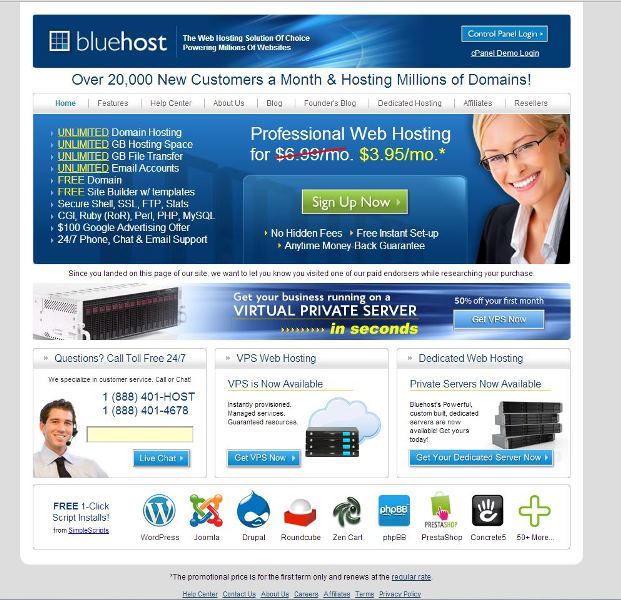 You're going to want to click the Green button that says: Sign Up Now
Upon clicking that button, you'll be taken to a screen that looks like this:
At this point, you'll want to put in the URL of your new blog in the box on the left that says, "I Need A Domain Name."
Domain tips:
Don't make them too long
Try not to have hyphens
Avoid misspelling if the name you want is taken (e.g three with threee, or cooking with kooking)
You want it to be catchy, so if you told people what it was called, they would remember it and know how to spell it (hence the previous tips)
Make it unique and expressive to yourself
We decided upon lemonandolives.com because you use both a lot in Greek cooking, and we just flat out liked it. So pick something you like and run with it :)
Once you do, you'll input it in the box and click the "Next" button and be taken to this screen:
This is the final step to purchasing not only your new domain name, but also your food blog hosting!
A few things I want to point out.
You'll get the best deal if you sign up for 3yrs (paid all at once). The nice thing about this is you don't have to worry about hosting for 36 months, and you can host UNLIMITED blogs and domains on one hosting package. So if you decide to start another blog, you'll already have hosting taken care of so you only need to get a new domain name. However, if you're not ready to spend the money now, just the click the box under "Package Information" and change it to whatever works best for you–monthly, yearly, etc. Even at a month-to-month plan, it will only cost you under $6.00 a month. A small price to show you're serious about blogging.
Secondly, as for the extras, we recommend only adding the "Domain Whois Privacy." When you buy a URL all your information–name, address, email becomes public information so anyone can look it up. However, if you buy Whois Privacy, it blocks all that and in it's place shows the name and company address of bluehost (or whomever you buy it from). This protects you and keeps your information private. It's not a requirement however, so it's up to you.
After you fill out all the necessary info, click "Next" at the bottom–and you'll be all set! Now you can login using the email and password you picked. Once you do, you'll end up at the Cpanel. Don't worry if it looks intimidating, after you install WordPress, you won't really be using this area much.
You'll want to find this section:
Click the button under "Website Builders" labeled as "WordPress"
Once you do that, you'll end up here:
Like before, hit the green button that says, "Start."
Now you'll see your your URL in the box like below. If it's not there click the tab to select it:
Okay, now click, "Check Domain."
You should be looking at this screen now. To get this exact screen below–check the box that says, "Show Advance Options."
Now, fill out all the information. Make sure your admin username is something not easily guessed–same for your password, too.
Double check to make sure the box is checked that says, "Automatically create new database" and hit the green button that says, "Install Now."
Congratulations!! You've just installed WordPress on your new URL! – Seriously, not everyone takes this step- so well done :)
Now, at the success screen you'll see the admin link. It will be whatever your new URL is with /wp-admin ending. For example, https://www.websitename.com/wp-admin.
Click that, and you'll end up at this screen:
Here, you'll enter in your info, the username and password you just picked on the previous screen. Once you do, hit the blue button that says, "Log In."
There you go, welcome to your fully hosted WordPress food blog!!! From there, you can write posts, customize, and control your whole blog. This will all come in time as you grow and learn.
So go ahead a publish your first recipe–then send us a link, contact, and let us know about it!!
Remember, from now on, you'll go to https://www.websitename.com/wp-admin and log in. You don't need to go to the Cpanel anymore.
Now for some extra information:
Please note: We belong to a few affiliate programs from some of the companies mentioned above. Therefore, when you click on the link and purchase the product, we receive a small compensation. However, we belong to them because we personally use them on this site and believe in them.